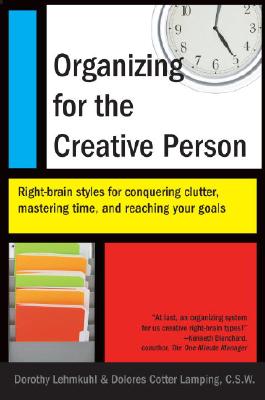 Organizing for the Creative Person: Right-Brain Styles for Conquering Clutter, Mastering Time, and Reaching Your Goals (Paperback)
Right-Brain Styles for Conquering Clutter, Mastering Time, and Reaching Your Goals
Harmony, 9780517881644, 224pp.
Publication Date: December 28, 1993
Description
The right-brain way to conquering clutter, mastering time, and reaching one's goals: the first book to show creative people how to arrange their desks, their time, and their lives in a style consistent with their unique way of perceiving the world. Suggests a host of practical solutions, all in harmony with the way creative people think and act. 20 line drawings.
About the Author
Dorothy Lehmkuhl is the coauthor of Organizing for the Creative Person. Since 1981, Dorothy has been teaching time management and organizing through seminars, speeches, writing, and consulting. She is the founder and president of Organizing Techniques, a service that consults on time management and office procedures. She has worked with AT&T, PaineWebber, and many other groups. Born in Oklahoma, she currently lives in Michigan. Dolores Cotter Lamping contributed to the book Organizing for the Creative Person: Right-Brain Styles for Conquering Clutter, Mastering Time, and Reaching Your Goals. Lamping is a psychotherapist who has counseled individuals, couples, and groups, and has taught self-development at colleges in the United States and Canada. She is based out of Clinton Township, Michigan, and has the professional credentials of PSYS LMSW LPC.
Advertisement