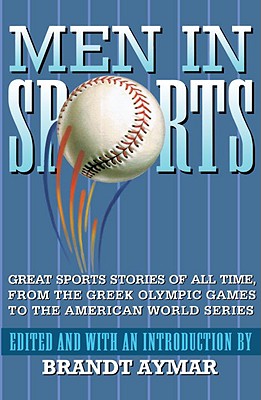 Men in Sports: Great Sport Stories of All Time, from the Greek Olympic Games to the American World Series (Paperback)
Great Sport Stories of All Time, from the Greek Olympic Games to the American World Series
Three Rivers Press (CA), 9780517883952, 512pp.
Publication Date: May 19, 1995
Description
A monumental anthology covering the literature of sports, from the funeral games of Homer to the American World Series today, Men in Sports includes Mary Renault's telling of an exciting day at the Olympic Games of 520 B.C., Stirling Moss's thousand-mile auto race, Ring Lardner's Horseshoes, James Dickey's harrowing account of canoes capsizing in the rapids, George Plimpton's The Five-Play Quarterback, Pele at soccer, Colin Fletcher's wilderness walking, Norman Mailer's coverage of the Paterson-Liston fight, Sydney Franklin's decision to become a bull-fighter, Dick Francis's horse-racing story The Day of the Losers, the climax of Trevanian's mountain-climbing classic Descent from the Eiger, John McPhee's tennis coverage of Arthur Ashe vs. Clark Graebner at Forest Hills, and Alan Sillitoe's The Loneliness of the Long-Distance Runner.
There are unusual selections featuring many other sports, including archery, ballooning, bicycling, billiards, boating, fishing, golf, hockey, hunting, jai alai, polo, rowing, scuba diving, skiing, surf-riding, swimming, track, wrestling, and yachting. Men in Sports is an omnibus anthology offering hours of fascinating, exciting reading for sports enthusiasts of all ages.
About the Author
Brandt Aymar has compiled eight previous anthologies, including The Personality of the Cat, Men at Sea, and Men in the Air. He is the author of several boating books, including Cruising Is Fun and The Complete Cruiser, and is the coauthor of A Pictorial History of the World's Great Trials from Socrates to Jean Harris. He lives in West Islip on Long Island.
Praise For Men in Sports: Great Sport Stories of All Time, from the Greek Olympic Games to the American World Series…
"The sporting life in all its myriad glories can be found in this exhilarating, one-of-a-kind collection. Mr. Aymar has covered the field of challenge and competition as no one has ever done before."

-- Donald Honig, author of Baseball: The Illustrated History of America's Game
Advertisement