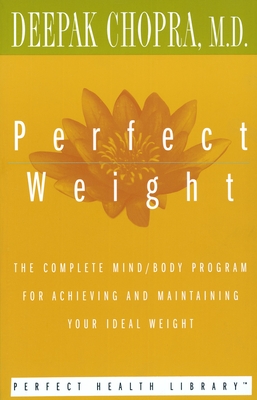 Perfect Weight: The Complete Mind/Body Program for Achieving and Maintaining Your Ideal Weight (Paperback)
The Complete Mind/Body Program for Achieving and Maintaining Your Ideal Weight
Harmony, 9780517884584, 144pp.
Publication Date: March 19, 1996
Description
One of the two launch titles in the Perfect Health Library series by bestselling author Dr. Deepak Chopra, Perfect Weight focuses on Ayurveda, the ancient Indian science of life, to help readers conquer their weight problems.
About the Author
DEEPAK CHOPRA, a member of Oprah's SuperSoul 100, is the author of more than fifty books translated into more than thirty-five languages--including numerous New York Times bestsellers in both the fiction and nonfiction categories. Dr. Chopra is a fellow of the American College of Physicians, a member of the American Association of Clinical Endocrinologists, adjunct professor at the Kellogg School of Management, and a senior scientist with the Gallup Organization. He is founder and president of the Alliance for a New Humanity. Time magazine heralds Deepak Chopra as one of the top 100 heroes and icons of the century and credits him as -the poet-prophet of alternative medicine.- From the eBook edition.
Advertisement