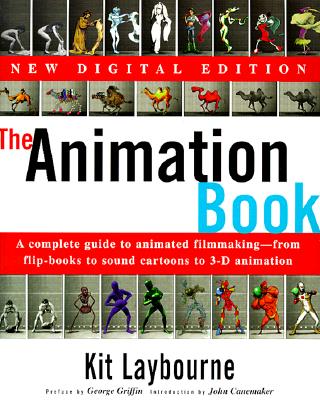 The Animation Book: A Complete Guide to Animated Filmmaking--From Flip-Books to Sound Cartoons to 3- D Animation (Paperback)
A Complete Guide to Animated Filmmaking--From Flip-Books to Sound Cartoons to 3- D Animation
Three Rivers Press (CA), 9780517886021, 448pp.
Publication Date: December 22, 1998
* Individual store prices may vary.
or
Not Currently Available for Direct Purchase
Description
The first edition of The Animation Book, published in 1979, became the authoritative guide to making animated movies. Now, as we enter the twenty-first century, the explosion in computer technology has created a corresponding boom in animation. Using desktop hardware and software, animators can easily produce high-quality, high-artistry animation and mix the aesthetics of traditional cel animation with dazzling 3-D effects. Kit Laybourne's digital revision to The Animation Book brings you to the cutting edge of animation technology. Richly illustrated with frame-grabs, production stills, and diagrams, this volume shares Kit's infectious enthusiasm for the limitless possibilities of today's hybrid techniques, and it provides beginning animators with all the information they need to jump in and start their own animation projects. More advanced animators will find The Animation Book to be an invaluable resource with detailed descriptions of filmmaking gear, computer hardware and software, art supplies, plus Internet and other resources.

Using an innovative case-study approach, Kit deconstructs how a range of digital projects were carried out at some of today's hottest animation studios, including Wildbrain, Blue Sky, Protozoa, Fantome, Broderbund, Nicktoons, and Klasky Csupo. These step-by-step studies show how desktop animators can follow the same creative process in their own films.
About the Author
Kit Laybourne is a highly successful independent producer who has worked on such television series such as MTV's Emmy-winning animation series "Liquid Television" and Nickelodeon's "Eureeka's Castle" and "Gullah Gullah Island." During 1995-96 academic year, he taught the Advanced Animation Seminar at NYU's Tisch School of the Arts. His full-time gig is Chief Creative Director at Oxygen, a new media company developing interactive content for the convergence of TV and computers. He is also Executive Producer of "Hank the Cowdog'" an animated feature film and TV series being developed by Nickelodeon.
Praise For The Animation Book: A Complete Guide to Animated Filmmaking--From Flip-Books to Sound Cartoons to 3- D Animation…
"After 'Why is the sky blue?' one of the most important questions we ask is 'What is a cartoon?'. This is the definitive book that tells all about the process closest to our hearts--animation."
--Albie Hecht, President, Film and TV Entertainment, Nickelodeon

"This book is great! If ever there was the ultimate textbook for animation, this is it. The Animation Book is the perfect starter kit for anyone interested in entering the animation business or learning about the art of animation."
--Terry Thoren, CEO/President, Klasky Csupo Inc.

"I love the new edition of Kit Laybourne's The Animation Book. As with the first edition, he manages to give a world-eye view on the art and craft of my favorite medium with extra emphasis on personal styles and techniques, while including studio styles and techniques. I'm especially impressed that computer animation has been folded into the blend without overwhelming the mix."
--Henry Selick, Director of The Nightmare Before Christmas and James and the Giant Peach

"A very essential book for any animator. I wish I'd read this book before I started out in animation."
--Bill Plympton

"I read one chapter on stop-motion animation and then went and made a little film with my seven-year-old son. When he finally saw the thing moving and come to life, he giggled for solid half hour. I love this book."
--Peter Hastings, Writer/Producer of Animaniacs and Pinky and the Brain and Creator of Disney's One Saturday Morning

"The Animation Book is a classic. If you can afford to buy only one book on animation, this is the one to buy--it has it all."
--Gunnar Willie, Head of the Animation Department, The National Film School of Denmark
Advertisement