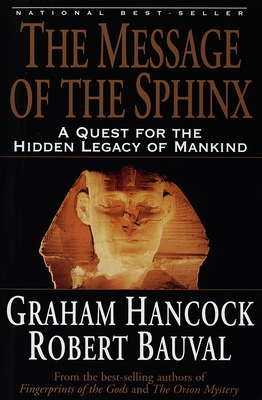 The Message of the Sphinx (Paperback)
A Quest for the Hidden Legacy of Mankind
Broadway Books, 9780517888520, 384pp.
Publication Date: May 27, 1997
* Individual store prices may vary.
Description
In this riveting account of historical and archaeological investigation, the authors present hard evidence that the Sphinx, the Pyramids, and the other monuments at Giza are of far more ancient origin than previously believed. Complete with evidence of a conspiracy between the Egyptology establishment and various confidential organizations to keep the secrets of the Pyramids from the world, The Message of the Sphinx is also a modern-day detective story. of photos.
About the Author
Graham Hancock was formerly East Africa Correspondent for The Economist and covered the Ogaden war between Somalia and Ethiopia for the London Sunday Times.  His books include African Ark:  Peoples of the Horn, the widely acclaimed Lords of Poverty, which earned the 1990 H.L. Mencken Award (honorable mention) for an outstanding book of journalism,  The Sign and the Seal (Crown, 1992), the international bestseller that documented his real-life quest for the lost Ark of the Covenant, and the recent number-one bestseller, Fingerprints of the Gods (Crown 1995).

Hancock has recently appeared on the NBC special "The Mysterious Origins of Man" and on the CBS special "Mysteries of the Millennium."  He has also appeared on television with Michael Palin in his "Pole to Pole" series, the BBC and CNN, as well as the National Geographic's "Explorer" series in stories related to The Sign and the Seal.

Robert Bauval is a construction engineer with a long-standing interest in the astronomy of the pyramids, having lived in Egypt and elsewhere in the Middle East for much of his life.  He has appeared on national television several times including ABC-TV's "Prime Time Live" and NBC-TV's "The Mysterious Origins of Man."  His first book The Orion Mystery was a number-one bestseller in the United Kingdom.