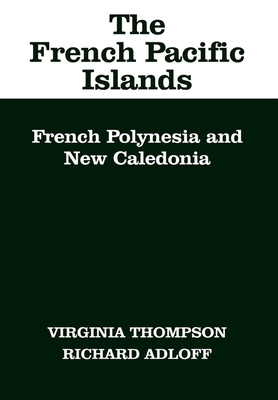 The French Pacific Islands (Hardcover)
French Polynesia and New Caledonia
University of California Press, 9780520018433, 556pp.
Publication Date: September 1, 1971
* Individual store prices may vary.
Description
"It is high time that someone made a sober study of the French Pacific islands. They have not been entirely neglected, though--it has been the fashion to dip a dilettante pen into Tahitian (though scarcely New Caledonian) themes, and French geographers have given us some splendid work. But Thompson and Adloff refuse to be diverted by swaying palms and curving beaches; they give evenhanded treatment to both French Polynesia and New Caledonia, they view the Pacific from the perspective of Franco-African experience, and they write in English. The two territories, of course, offer a telling contrast--Polynesia versus Melanesia, far-flung archipelagoes versus the "Grande Terre," classic Pacific paradise versus onetime convict colony, lagoon-encircled basalt pinnacles versus scrub-clad hills and nickel mines. The authors shrewdly press on common themes, especially economic dependence and an allegedly "anomalous but also anachronistic" retreat from self-government in a decolonizing world, though such themes scarcely dominate the book.
The presentation is straightforward and methodical. First French Polynesia, then New Caledonia; first the land and its indigenous occupants, then annexation and administration, colonial settlement and development, World War I to World War II, political parties of the left and the right, government and autonomy, rural and industrial life, trade and transportation, labor, religion, and culture. Even if the book is oriented more toward the historian and the political scientist, it offers plenty of grist for the geographer's mill. There are solid studies of the economy of both territories, and several (sometimes tantalizingly brief) glimpses of the regional variations in peoples and places: Protestants and Catholics, urban drift and rural malaise, crowding islands and depopulated archipelagoes."
Author(s): Gordon R. Lewthwaite
Review by: Gordon R. Lewthwaite
Source: Geographical Review, Vol. 63, No. 2 (Apr., 1973), pp. 296-298
Published by: American Geographical Society
Stable URL: http://www.jstor.org/stable/213427