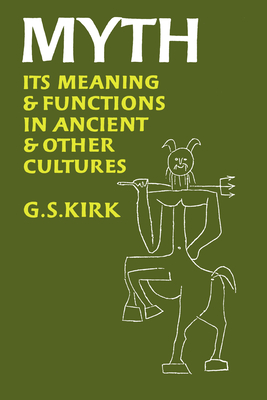 Myth
Its Meaning and Functions in Ancient and Other Cultures (Sather Classical Lectures #40)
Paperback

* Individual store prices may vary.
Description
This book attempts to come to grips with a set of widely ranging but connected problems concerning myths: their relation to folktales on the one hand, to rituals on the other; the validity and scope of the structuralist theory of myth; the range of possible mythical functions; the effects of developed social institutions and literacy; the character and meaning of ancient Near-Eastern myths and their influence on Greece; the special forms taken by Greek myths and their involvement with rational modes of thought; the status of myths as expressions of the unconscious, as allied with dreams, as universal symbols, or as accidents of primarily narrative aims.
Almost none of these problems has been convincingly handled, even in a provisional way, up to the present, and this failure has vitiated not only such few general discussions as exist of the nature, meanings and functions of myths but also, in many cases, the detailed assessment of individual myths of different cultures. 
The need for a coherent treatment of these and related problems, and one that is not concerned simply to propagate a particular universalistic theory, seems undeniable. How far the present book will satisfactorily fill such a need remains to be seen. At least it makes a beginning, even if in doing so it risks the criticism of being neither fish nor fowl. Sociologists and folklorists may find it, from their specialized viewpoints, a little simplistic in places; and a few classical colleagues will not forgive me for straying far beyond Greek myths, even though these can hardly be understood in isolation or solely in the light of studies in cult and ritual. Others may find it less easy than anthropologists, sociologists, historians of thought or students of French and English literature to accept the relevance of Levi-Strauss to some of these matters; but his theory contains the one important new idea in this field since Freud, it is complicated and largely untested, and it demands careful attention from anyone attempting a broad understanding of the subject. The beliefs of Freud and Jung, on the other hand, are a more familiar element in the situation and have given rise to an enormous secondary literature, much of it arbitrary and some of it absurd. The author has tried to isolate the crucial ideas and subject them to a pointed, if too brief, critique; so too with those of Ernst Cassirer.
University of California Press, 9780520023895, 312pp.
Publication Date: June 8, 1973
About the Author
Geoffrey Kirk (1921-2003) held the regius chair in Greek at Cambridge University from 1974 to 1982 and was a major figure in the study of the presocratic philosophers and early Greek epic poetry.