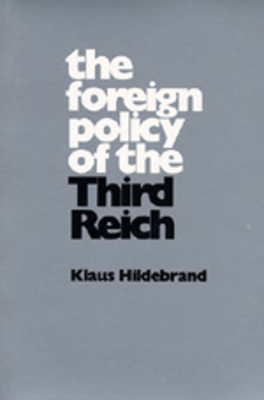 The Foreign Policy of the Third Reich
Paperback

* Individual store prices may vary.
Description
In this short outline history of Hitler's foreign policy, Professor Hildebrand contends that the National Socialist Party achieved popularity largely because it integrated all the political, economic and socio-political expectations prevailing in Germany since Bismarck. Thus, foreign policy under Hitler was a logical extension of the aims of the newly created German nation-state of 1871.

Trading on his domestic economic successes, Hitler relied on the traditional methods of power politics-backing diplomacy with force. Had he pursued expansionist aims alone, using specific lighting wars as threats or instruments of conquest he might have been more successful. As it was, the scheme went awry when the first phase-European hegemony-was overtaken by and forced to run parallel with the second and third phases: American intervention and "racial purification." The ideology became too great a burden to bear, stimulating internal resistance, and the Allies of course determined to wage total for a total surrender.


University of California Press, 9780520025288, 220pp.
Publication Date: December 17, 1973