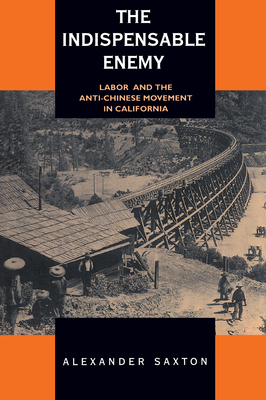 The Indispensable Enemy
Labor and the Anti-Chinese Movement in California
Paperback

* Individual store prices may vary.
Description
Winner, Silver Medal, California Book Awards—Commonwealth Club of California

With a foreword by William Deverell

The Indispensable Enemy examines the anti-Chinese confrontation on the Pacific Coast as it was experienced and rationalized by the white majority. Focusing on the Democratic party and the labor movement of California through the forty-year period after the Civil War, Alexander Saxton explores aspects of the Jacksonian background which proves crucial to an understanding of what occurred in California. The Indispensable Enemy looks beyond the turn of the 19th century to trace results of the sequence of events in the West for the labor movement as a whole, influencing events that led to the crystallization of an American concept of national identity.
Praise For The Indispensable Enemy: Labor and the Anti-Chinese Movement in California…
"Covering the latter part of the 19th century, from the beginning of California's labor disorders to the re-enforcement of America's racist immigration acts, The Indispensable Enemy gives important background to America's prejudice toward Asians. . . . The Indispensable Enemy is essential reading for students of Asian America."
— Bulletin of Concerned Asian Scholars

"The Indispensable Enemy will provide an essential source for information and insight into this subject. Like others of this genre, it is a serious work that deals intensively with the themes suggested in the title. It provides not only the broad overview, but a stimulating study of the subtleties, complexities, and revealing nuances of the inter-relationships between the anti-Chinese movement and California's organized labor movement." 
— American Historical Review

"Alexander Saxton's work deserves widespread attention for its valuable contribution to our understanding of Chinese immigration as a crucial issue in the development of organized labor in California during the last third of the nineteenth century. With a fine hand the author traces the role of the "yellow specter" in the training of labor leaders, in the in-fighting and factional disputes during those decades, and in the development of the sectional nature of organized labor on the West Coast as "a regional labor center.""
— Pacific Historical Review

"This study brings out in detail the complex of sentiments, ideas, programs, organizations, and personalities covering several decades. There are interesting analyses of key figures such as Henry George, Denis Kearney, Frank Roney, Burnette Haskell, Sigismund Danielewicz, and others. The California story is placed within the context of the larger national situation of labor and ethnic relations and their interactions, thus adding to its interest and value."
— Annals of the American Academy of Political and Social Science
University of California Press, 9780520029057, 304pp.
Publication Date: June 23, 1975
About the Author
Alexander Saxton (1919-2012) was the author of The Rise and Fall of the White Republic (1991), and the novels Bright Web in the Darkness (California reissue 1997) and Great Midland. He was Professor Emeritus of History at the University of California, Los Angeles.