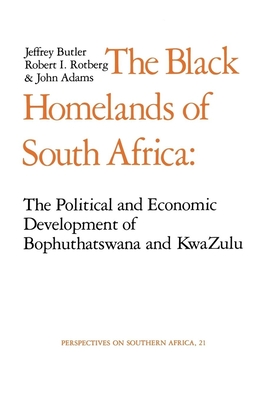 The Black Homelands of South Africa
The Political and Economic Development of Bophuthatswana and Kwa-Zulu (Perspectives on Southern Africa #21)
Paperback

* Individual store prices may vary.
Description
"An admirable mixture of first-rate scholarship and controversial political thinking. For anybody who wants to know what the homelands policy is all about, and how it works out in practice, this rightly wrin en volume can be highly recommended."--Cape Times "Many volumes on South Africa have appeared in recent years, but few have analyzed in detail the country's program for eventually creating ten independent black African 'homelands': This book presents a detailed account of the history and conditions ... of two of the homelands, Bophmhatswana (located near Preroria) and KwaZulu (bordering on the Indian Ocean), plus some interpretation of the overall homeland policy. The two homelands studied consist of patches of noncontiguous land and have meager natural resources and virtually no modern economic infrastructures. They could exist as viable independent entities only if a large proportion of their citizens continued to live and work in white-controlled South Africa. On a slightly optimistic note, the authors observe that the homelands, with their new political structures, have created constituencies for modern leaders who may be able to wrest concessions from the whites."--Library journal "The authors, each a major scholar of the current South African scene, address their subject from an historical and legislative background, moving on the separate treatment of the two 'homelands' administration and politics; leadership (principally Lucas Mangope of Bophuthatswana and Gatsha Burhelezi of KwaZulu); income and public finance; and economic development. The study is liberally illustrated with informative tables and maps. They conclude with an excellent (though depressing) conclusion on the future of the two homelands The book is a model study of its subjects--comprehensive, searching, and candid. . . An indispensible addition to the slim body of book literature (of any substance) on current South African socioeconomic and political conditions, particularly as they relate to the homelands." --Choice  "Striving visibly for objectiv ity, this study considers the possible contributions of the homelands to the achievement of evolut ionary change in South Africa, while at the same time thoroughly documenting the vast physical and political constraints on homeland development. An extremely useful source."--Foreign Affairs
University of California Press, 9780520037168, 264pp.
Publication Date: October 9, 1978