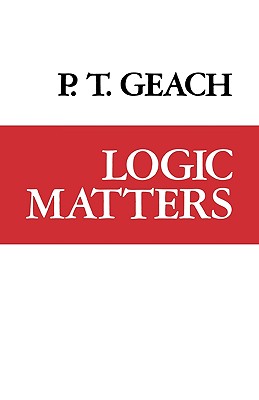 Logic Matters
Paperback

* Individual store prices may vary.
Description
"This is a significant and ofren rather demanding collection of essays. It is an anthology purring together the uncollected works of an important twentieth-century philosopher. Many of the articles treat one or another of the more important issues considered by analytic philosophers during the last quarter-century. Of significant importance to philosophers interested in researching the many topics contained in Logic Matters is the inclusion in this anthology of a rather extensive eight-page name-topic index."
--Thomist
"The papers are arranged by topic: Historical Essays, Traditional Logic, Theory of Reference and Syntax, Intentionality, Quotation and Semantics, Set Theory, Identity Theory, Assertion, Imperatives and Practical Reasoning, Logic in Metaphysics and Theology. The broad range of issues that have engaged Geach's complex and systematic reasoning is impressive. In addition to classical logic, topics in ethics, ontology, and even the logic of religious dogmas are tackled .... the work in this collection is more brilliant and ingenious than it is difficult and demanding."
--Philosophy of Science
"Geach displays his mastery of applying logical techniques and concepts to philosophical questions. Compared with most works in philosophical logic this book is remarkable for its range of topics. Plato, Aristotle, Aquinas, Russell, Wittgenstein, and Quine all figure prominently. Geach's style is remarkably lively considering the rightly argued matter. Although some of the articles treat rather technical questions in mathematical logic, most are accessible to philosophers with modest backgrounds in logic." 
--Choice
University of California Press, 9780520038479, 348pp.
Publication Date: April 30, 1980
About the Author
Peter Thomas Geach, FBA (March 29, 1916 – December 21, 2013) was a British philosopher and Emeritus Professor of Logic at the University of Leeds.