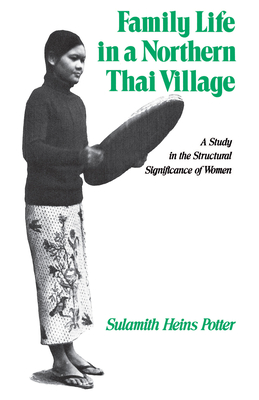 Family Life in a Northern Thai Village
A Study in the Structural Significance of Women
Paperback

* Individual store prices may vary.
Description
"Potter's 'humanistic narrative' probes family social structure and social organization in Chiangmai, a Northern Thai village .... a solid, informative, and very interesting and alive picture."--Library Journal "Gives us a rare inside view of daily life in a northern Thai village . . . The reader gets a feeling of life, pleasure,jealously,anger, pain, and death that is seldom discussed in the anthropological literature."--Asia "Rejecting the traditional 'loosely structured' theory of the Thai family, Potter suggests a system that is female--centered with structurally significant consanguineal ties between women rather than men. This alternative not only explains the data presented but offers a new way of looking at comparative kinship." --Intercom "The dynamic interplay between the structural dominance of women and the ideological dominance of men is vividly brought out, challenging earlier, and possibly male-biased, perspectives on Northern Thai family structure."--Population and Development Review "Potter succeeds in presenting ethnographic material in a lively, humanistically oriented manner. By the time we have encountered three generations of Plenitudes at home in their courtyard . . . we know them as individuals as we as representatives of an exotic culture. . . . Potter presents individual portraits alongside this vivid picture of family and social structure, communal and individual economic activity, political factionalism, and religious observance . . . this book stands as a challenge to cross-cultural psychology."--Contemporary Psychology "Dr. Potter's study is highly readable and will be of interest to the general public as well as to scholars."--Asian Student
University of California Press, 9780520040441, 156pp.
Publication Date: January 31, 1980
About the Author
Sulamith Heins Potter is Professor in the Department of Anthropology, University of California-Berkeley.