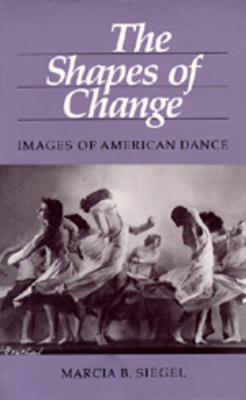 The Shapes of Change
Images of American Dance
Paperback

* Individual store prices may vary.
Description
"What is strikingly new about Miss Siegel's achievement is that she goes beyond the usual kind of historical reassessment. . . . She performs on behalf of this most evanescent of the arts an act of significant recovery. By tracking down--often in rare stage revivals, on film or on videotape--as many of the works by major creators of the last half century as survive, and by describing them . . . in a manner that combines accuracy and imagination, she has enriched our knowledge of the past and added immeasurably, to our resent stock of critical resources."
--Dale Harris, New York Times Book Review
"Siegel has a gut feeling for dance and a razor-sharp intelligence about it. It's an irresistible combination."
--Margaret Pierpont, Dance Magazine
"After you've seen and felt dance this deeply--even vicariously--your way of looking at dance will never be the same."
--William Albright, Houston Post 
She sees, acutely, with her muscles as well as her eyes. She thinks about dance as much as she experiences it. . . . This is dance choreography reconstituted. Dances leap off the page. . . . The ability to do that is extraordinary."
--Jean Bunke, Des Moines Sunday Register
"The sections in which she describes the dances themselves make up the bulk of the book and they are profoundly illuminating. . . . These descriptions represent an amazing literary, as well as critical, accomplishment, for they are both accurate and resonant, both objective and enlightening, both formal and personal."
--Laura Shapiro, The Real Paper
"Siegel draws on her years of experience as a working dance critic, a profession she has helped to shape, and brings to a range of American dance a sense of honesty and a mind that wants to understand the antecedents of what is currently in vogue as the dance explosion."
--Iris M. Fanger, The Christian Science Monitor
University of California Press, 9780520042124, 386pp.
Publication Date: May 17, 1985
About the Author
Marcia B. Siegel (1959-1995) was a dance critic, teacher, and advocate for professional dance criticism.