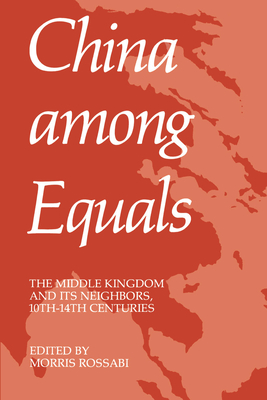 China Among Equals (Paperback)
The Middle Kingdom and Its Neighbors, 10th-14th Centuries
University of California Press, 9780520045620, 400pp.
Publication Date: May 20, 1983
* Individual store prices may vary.
Description
Scholars have long accepted China's own view of its traditional foreign relations: that China devised its own world order and maintained it from the second century B.C. to the nineteenth century. China ruled out equality with any nation: foreign rulers and their envoys were treated as subordinates or inferiors, required to send periodic tribute embassies to the Chinese emperor. The Chinese court was otherwise uninterested in foreign lands. Its principal interests were to maintain peace with what it perceived to be barbarian neighbors and to coax or coerce them into admitting China's superiority and accepting the Chinese emperor as the Son of Heaven.

But Chinese foreign policy was not monolithic. Court officials in traditional times were much more realistic and pragmatic than is commonly assumed. They did not scorn foreign trade, nor were ignorant of foreign lands. Challenging the accepted view of Chinese foreign relations, the authors of China among Equals contribute to a clearer assessment of Chinese foreign relations and policy. From the tenth to the thirteenth centuries, China did not dogmatically enforce its own world order. Chinese were eager for foreign trade and knowledgeable about their neighbors. The Sung (960-1279), the principal dynasty during that era, was flexible in its dealings with foreigners. Its officials recognized the military and political weakness of the dynasty, and in general they adopted a realistic and pragmatic foreign policy. They were compelled to accept foreign states as equals, and the relations between China and other states were defined by diplomatic parity.