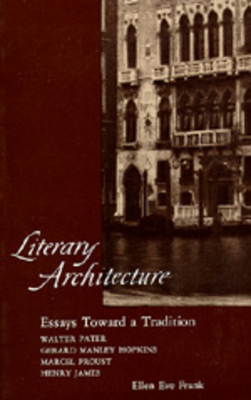 Literary Architecture
Essays Toward a Tradition: Walter Pater, Gerard Manley Hopkins, Marcel Proust, Henry James
Paperback

* Individual store prices may vary.
Description
"A complex and important book .... a challenging and sophisticated contribution to critical studies of the sister arts. It originates from a thoroughly considered grasp of the imaginative possibilities of the analogy between architecture and literature, and it boldly brings an innovative critical method to bear upon a neglected subject."
--Modern Language Quarterly
"Fascinating . . [Frank's] main interest does not lie in tracking down and neatly labeling every appearance of significant architecture in these writers' works. What concerns her is that they all seem to find in architecture, rather than in painting or music, the most satisfying and fruitful analogy for literary creation and for the refined consciousness of the literary artist. . . . There is considerable truth in this book."
--Pater Newsletter
"Frank's bold hypotheses about these works, her striking juxtapositions--including her epigraphs for the many beautiful illustrations in this handsome book--and her sense of the architectural connotations of words and the implications of spatial metaphors all generate many creative insights. The result is an important, pioneering work."
--Comparative Literature
"As the subtitle admits, it's a venture in the direction of a tradition, and its ideas aren't arrivals but itineraries, not conclusive formulations but alluring possibilities, invitations to extrapolation. Of its very nature such a project is bound to seem teasing and incomplete; yet it justifies itself by provoking thought in those who read it."
--Times Literary Supplement
"Brilliant. . . The tour is not easy, for it requires patience and concentration, but it is one well worth taking."
--Archetype
University of California Press, 9780520047723, 328pp.
Publication Date: February 18, 1983
About the Author
Ellen Frank studied art history and connoisseurship at Yale University, the Courtauld and Warburg Institutes, and holds an interdisciplinary doctorate in English Literature and the Visual Arts from Stanford University. Dr. Frank was Assistant Professor of English Literature at UC Berkeley where she co-designed and created the first interdisciplinary major "Literature and the Visual Arts"; she was guest Associate Professor at Barnard College and Rutgers University, visiting professor at School of Visual Arts and Tyler School of Art. Her first book, Literary Architecture: Essays Toward a Tradition (University of California Press), was awarded the New York Institute for Graphic Arts 50 Best Books, Ronce & Coffin Club Design Award, and "Best Book in 50 Years" by University of California Press.