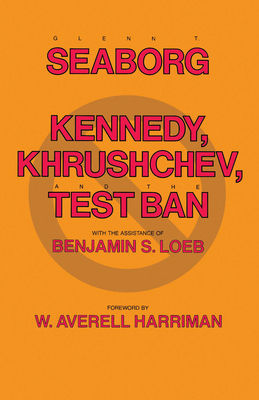 Kennedy, Khrushchev and the Test Ban
Paperback

* Individual store prices may vary.
Description
"This is one of the most important books to come from a university press within the last year . . . Seaberg, Nobel Prize laureate, was chairman of the old Atomic Energy Commission (AEC) when the treaty was negotiated. With a decent time interval now past, he has opened the detailed diary he kept during his AEC tenure. Together with auxiliary materials, including interviews with other participants, he has now written an incisive account of events leading up to the treaty and of the negotiations and their successful conclusion."
--Christian Science Monitor
"Drawn from [Seaberg's] personal journal, this book focuses on Kennedy's quest for a comprehensive test ban and on why, 'despite some near misses, this glittering prize, which carried with it the opportunity to arrest the viciously spiralling arms race, eluded our grasp.' More than a memoir, the book draws upon documents and observations of other key participants .. . It also provides insights into Kennedy and his Administration as well as giving us the substance of the nuclear test ban debate. Mr. Seaberg is refreshingly fair in his assessment of the merits and failures of the limited treaty that Kennedy achieved."
--New York Times
"A detailed and absorbing history of what seems, in retrospect, the innocent and halcyon days of nuclear arms control. Seaberg rightly lays claim to having been an 'insider' in the test ban negotiations, and his first-person account benefits from close friendship with other Kennedy insiders . . . As might be expected, the book is most interesting for the light it throws upon the thoughts and actions of Kennedy; a surprise is its insight, reflected through the eyes of Kennedy and Harriman, into the personality of Khrushchev. . . Implicit in Seaborg's portrait of Khrushchev is a view which perhaps had some currency in the Kennedy administration but more recently seems to have fallen out of vogue--that it is possible to deal with the Russians."
--Washington Post
University of California Press, 9780520049611, 320pp.
Publication Date: March 16, 1983
About the Author
Glenn T. Seaborg was a professor at the University of California, Berkeley and served as the university's second chancellor. He was Chairman of the United States Atomic Energy Commission from 1961 to 1971, a signatory to the Franck Report, and contributed to the Limited Test Ban Treaty, the Nuclear Non-Proliferation Treaty and the Comprehensive Test Ban Treaty.