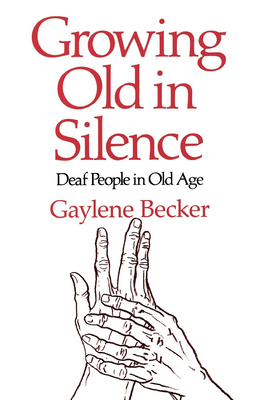 Growing Old in Silence
Paperback

* Individual store prices may vary.
Description
"This sensitive and well-written anthropological study of the aged deaf describes a vital subculture of disabled persons . . Thought provoking implications are drawn from the deaf aged for the more general experience of being old in America."
--Science Books and Films
"A book that takes us into a community distinguished by a disability that, from an outsider's view is full of liabilities. Instead, we find assets and strengths enabling people who were born deaf or who lost their hearing in early childhood to cope with their advancing age ... . a sensitive, well-written portrait of the people and the community studied. It is a must for researchers who study the old and for those who work with the disabled."
--Medical Anthropology Newsletter
"Becker reveals how the adaptation to deafness early in life provides the basis for social interaction, coping mechanisms, and strong group and community bonds. Early isolation, special schooling, separation from family, and communication limited to deaf peers create long-lasting adult groups that provide exceptionaJ social support for old age . . . Becker calls attention to values and circumstances that stress and build an enduring group life. Social interdependence seems to ease the process of aging among the deaf, whereas the mainstream stress on personal autonomy and individualism may be less efficacious for the aging process." 
--Contemporary Sociology
"The straightforward text, filled with brief histories and quotations from interviews, relates how the homogeneity and intimacy of the group develop from childhood in response to their isolation from the hearing world. It is this unity, Becker stresses, that aids the deaf elderly to better accept aging and its accompanying trials." 
--Booklist
"Social science observation is combined with case history material in a most readable format. It is fascinating."
--Sociology and Social Research
University of California Press, 9780520050587, 160pp.
Publication Date: November 15, 1983
About the Author
Gay Becker is Professor in Residence, Medical Anthropology and Social and Behavioral Sciences, UCSF.