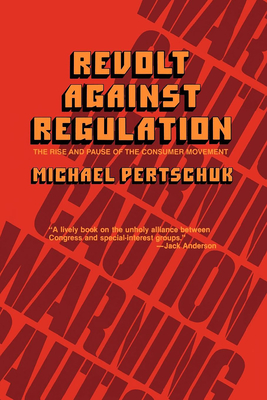 Revolt Against Regulation
The Rise and Pause of the Consumer Movement
Paperback

* Individual store prices may vary.
Description
"Michael Pertschuk brings an insider's insight to the tumultuous years of the sixties and seventies, when the consumer protection bells rang from Washington throughout the land. An engrossing story of corporate versus consumer battles over health, safety, and the economic rights of Americans. The future of consumer justice is given wisdom by this eyewitness account."
--Ralph Nadar
"This is a book that should be ready by everyone with a stake in regulation of business by bureaucrats in Washington. Whether you agree or disagree with his point of view--and I often disagree--you can always count on Mike Pertschuk to be provocative, stimulating, and certainly controversial."
--Howard H. Bell, President, American Advertising Federation
"There is a lot of businessmen [sic] to disagree with in this book. It's troublesome and disturbing--not the least because Mike Pertschuk is a tough adversary. But any businessman [sic]--or citizen--who wants to know exactly how the politics of regulation work would be well advised to read this book--and be prepared."
--George Koch, President and Chief Executive Officer Grocery Manufacturers of America
"Must reading for everyone who is a student of the consumer movement, past, present, and future, and its interaction with the government, media, private sector, et al. It is a superb 'How To' manual on tactics, and presents a rare inside look at how things really get done in that place called Washington, D.C."
--Calvin Pond, Vice President, Public Affairs Division Safeway Stores, Inc.
"Pertschuk's book is outstanding; it is a beautiful blend of personal, firsthand observation and political and policy analysis."
--Aaron Wildavsky, University of California, Berkeley
"A rare picture of how government works. . . sprightly, lucid, and appealing . . .remarkably candid and honest, not only in revealing the labyrinthian interplays of politics but in disclosing the author's own attitudes and motives. . . . An extraordinary document."
--Charles Lindblom, Yale University
"There is no more controversial figure in Washington than Michael Pertschuk . . ."
--Senator John Danforth
University of California Press, 9780520050747, 192pp.
Publication Date: December 3, 1983
About the Author
Michael Pertschuk is a consumer and public health advocate and former Chairman of the Federal Trade Commission.