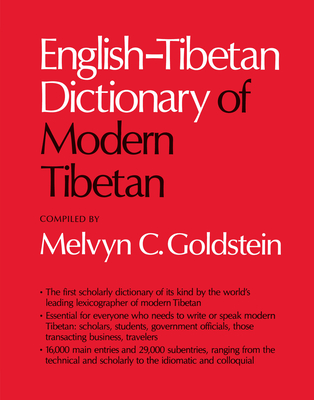 English-Tibetan Dictionary of Modern Tibetan
Hardcover

* Individual store prices may vary.
Description
The liberalization of political and intellectual life in China and the rise of Tibetan exile communities throughout the world have produced a resurgence of spoken and written Tibetan. These developments, together with increasing contacts between Western scholars and Tibetans, have created a widening circle of English-speakers—in government, business, academia, and elsewhere—who need to speak or write Tibetan with precision and clarity. For these people, and for others who want to communicate with Tibetans in their own language, Professor Goldstein's Dictionary will be an indispensable aid.

The first scholarly English-Tibetan dictionary, as well as the only one that is semantically sensitive, this work specifies the Tibetan terms that correspond to the submeanings of a single English term. Containing roughly 16,000 main entries, most of which have multiple subentries, the Dictionary treats a total of 45,000 lexical items. Each entry includes both the written Tibetan orthography and a phonemic notation to indicate pronunciation. Grammatical features are also noted, and all examples of usage are presented with the romanticization of the written Tibetan and phonemic notation of the spoken forms. An introductory essay familiarizes users with the main features of Tibetan grammar.
University of California Press, 9780520051577, 512pp.
Publication Date: August 9, 1984
About the Author
Mervyn C. Goldstein, Professor of Anthropology at Case Western Reserve University is the author of the Tibetan-English Dictionary, Modern Spoken Tibetan, and Modern Literary Tibetan. He has conducted research with the Tibetan-speaking populations of India and Nepal in settings that range from a Tibetan refugee settlement in India to the most remote part of Nepal, where he studied an indigenous seminomadic group nestled on the Tibetan border. Recognized as one of the world's leading experts on Tibet, Goldstein has over thirty published essays concerning Tibet.
or
Not Currently Available for Direct Purchase