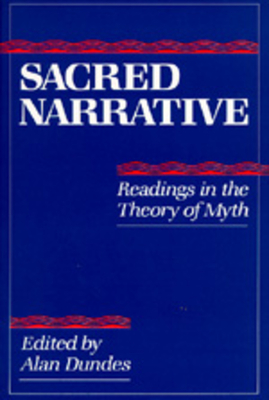 Sacred Narrative
Readings in the Theory of Myth
Paperback

* Individual store prices may vary.
Description
Alan Dundes defines myth as a sacred narrative that explains how the world and humanity came to be in their present form. This new volume brings together classics statements on the theory of myth by authors such as William Bascom, Jan de Vries, G. S. Kirk, James G. Frazer, Theodor H. Gaster, Mircea Eliade, Bronislaw Malinowski, C. G. Jung, and Claude Lévi-Strauss.

Rather than limiting this collection to classical Roman and Greek mythology, Dundes gives the book a worldwide scope. The twenty-two essays by leading experts on myth represent comparative functionalist, myth-ritual, Jungian, Freudian, and structuralist approaches to studying the genre.
University of California Press, 9780520051928, 352pp.
Publication Date: November 15, 1984
About the Author
Alan Dundes is Professor of Anthropology and Folklore, University of California, Berkeley, and author of numerous books on folklore, including La Terra in Piazza: An Interpretation of the Palio of Siena (California, 1975, 1982).