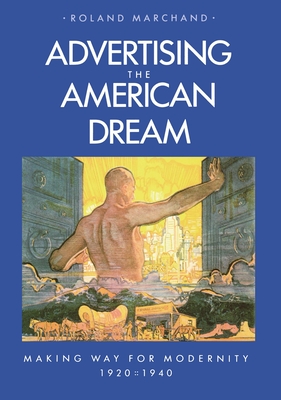 Advertising the American Dream
Making Way for Modernity, 1920-1940
Paperback

* Individual store prices may vary.
Description
It has become impossible to imagine our culture without advertising. But how and why did advertising become a determiner of our self-image? Advertising the American Dream looks carefully at the two decades when advertising discovered striking new ways to play on our anxieties and to promise solace for the masses.

As American society became more urban, more complex, and more dominated by massive bureaucracies, the old American Dream seemed threatened. Advertisers may only have dimly perceived the profound transformations America was experiencing. However, the advertising they created is a wonderfully graphic record of the underlying assumptions and changing values in American culture. With extensive reference to the popular media—radio broadcasts, confession magazines, and tabloid newspapers—Professor Marchand describes how advertisers manipulated modern art and photography to promote an enduring "consumption ethic."
Praise For Advertising the American Dream: Making Way for Modernity, 1920-1940…
"This gracefully written and beautifully illustrated book skillfully explores the complex relationships between advertising and American life in the interwar years."
— American Historical Review

"The most thorough treatment of any segment of advertising's history."
— American Journal of Sociology

"Roland Marchand has examined 180,000 advertisements from newspapers and magazines of the 1920s and 1930s. . . . [And, he's] survived with his critical faculties in fine order. HIs book is a magisterial and convincing study of what he found."
— Business History Review

"Contributes significantly to a growing body of literature that has established the credibility of a 'consumption ethic,' and confirmed advertising to be a central institution in American culture."
— American Journalism

"For persons who read historical materials only very rarely, this book is the one to read this decade for both pleasure and valuable insights. Well conceived and executed . . . this excellent work is relevant to a much wider audience than its title might suggest."
— Journal of Marketing
University of California Press, 9780520058859, 472pp.
Publication Date: September 16, 1985
About the Author
Roland Marchand (1933-1997) was Professor of History at the University of California, Davis, and authored numerous works on American cultural history.