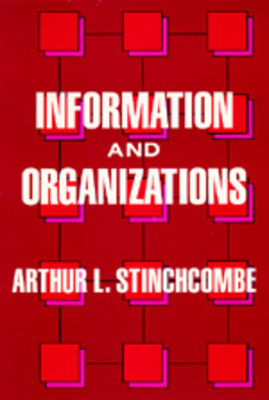 Information and Organizations (California Series on Social Choice and Political Economy #19)
Paperback

* Individual store prices may vary.
Description
An ambitious new work by a well-respected sociologist, Information and Organizations provides a bold perspective of the dynamics of organizations. Stinchcombe contends that the "information problem" and the concept of "uncertainty" provide the key to understanding how organizations function. In a delightful mix of large theoretical insights and vivid anecdotal material, Stinchcombe explores the ins and outs of organizations from both a macro and micro perspective. He reinterprets the work of the renowned scholars of business, Alfred Chandler, James March and Oliver Williamson, and looks in depth at corporations like DuPont and General Motors. Along the way, Stinchcombe explores subjects as varied as class consciousness, innovation, contracts and university administration. All of these analyses are distinguished by incisive thinking and creative new approaches to issues that have long confronted business people and those interested in organizational theory.

A tour de force, Information and Organizations is a must-read for business people and scholars of many stripes. It promises to be a widely discussed and debated work.
University of California Press, 9780520067813, 404pp.
Publication Date: June 11, 1990
About the Author
Arthur L. Stinchcombe is Professor of Sociology at Northwestern University and author of a number of books, including Stratification and Organization: Selected Papers (1989) and Theoretical Methods in Social History (1978).