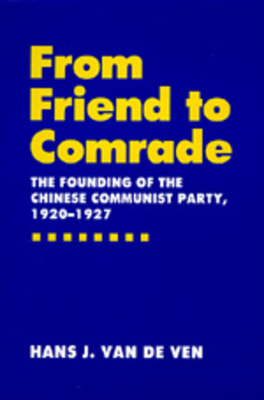 From Friend to Comrade (Hardcover)
The Founding of the Chinese Communist Party, 1920-1927
University of California Press, 9780520072718, 384pp.
Publication Date: February 26, 1992
* Individual store prices may vary.
Description
Scholars have long held that the Chinese Communist Party (CCP) was a centralized organization from its founding in 1921. In a departure from that view, From Friend to Comrade demonstrates how the CCP began as a group of study societies, only evolving into a mass Marxist-Leninist party by 1927.

Hans J. van de Ven's study is based on party documents of the 1920s that have only recently become available, as well as the writings of a wide range of Chinese communists. He analyzes the party's difficulty in building a cohesive organization firmly rooted in Chinese society. While past scholarship has emphasized the influence of Soviet communism on the CCP, van de Ven stresses the thinking and actions of Chinese communists themselves, placing their struggle in the context of China's political history and highly complex society.
About the Author
Hans J. van de Ven is Lecturer in Chinese Studies and Fellow of St. Catherine's College, University of Cambridge.