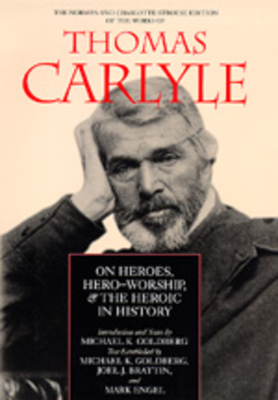 On Heroes, Hero-Worship, and the Heroic in History (The Norman and Charlotte Strouse Edition of the Writings of Thomas Carlyle #1)
Hardcover

* Individual store prices may vary.
Other Editions of This Title:
Paperback (9/6/2011)
Paperback (6/21/2017)
Paperback (3/16/2010)
Paperback (1/24/2009)
Paperback (1/5/2021)
Paperback (7/20/2017)
Paperback (12/26/2019)
Paperback (1/5/2021)
Paperback (1/1/2006)
Paperback (5/1/2017)
Paperback (4/11/2018)
Paperback (4/13/2014)
Paperback (9/24/2018)
Paperback (7/16/2015)
Paperback (6/15/2017)
Paperback (9/1/2012)
Paperback (3/10/2014)
Paperback (1/17/2007)
Paperback (5/20/2009)
Description
In his 1840 lectures on heroes, Thomas Carlyle, Victorian essayist and social critic, championed the importance of the individual in history. Published the following year and eventually translated into fifteen languages, this imaginative work of history, comparative religion, and literature is the most influential statement of a man who came to be thought of as a secular prophet and the "undoubted head of English letters" (Emerson). His vivid portraits of Muhammad, Dante, Luther, Napoleon—just a few of the individuals Carlyle celebrated for changing the course of world history—made On Heroes a challenge to the anonymous social forces threatening to control life during the Industrial Revolution.

In eight volumes, The Strouse Edition will provide the texts of Carlyle's major works edited for the first time to contemporary scholarly standards. For the general reader, its detailed introductions and annotations will offer insight into the author's thought and a reconstruction of the diverse and often arcane Carlylean sources.
University of California Press, 9780520075153, 622pp.
Publication Date: June 7, 1993
About the Author
Michael K. Goldberg is Professor of English, University of British Columbia. He has written widely on the 19th century including Carlyle and Dickens (Georgia, 1972). Joel J. Brattin is Assistant Professor in the Humanities at Worcester Polytechnic Institute. Mark Engel is a student of philosophy, a professional editor, and an independent scholar.