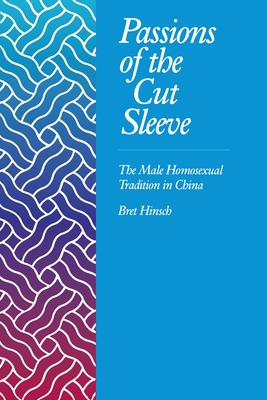 Passions of the Cut Sleeve
The Male Homosexual Tradition in China
Paperback

* Individual store prices may vary.
Description
The first detailed treatment of the Chinese homosexual tradition in any Western language, Passions of the Cut Sleeve shatters preconceptions and stereotypes. Gone is the image of the sternly puritanical Confucian as sole representative of Chinese sexual practices—and with it the justification for the modern Chinese insistence that homosexuality is a recent import from the decadent West. Rediscovering the male homosexual tradition in China provides a startling new perspective on Chinese society and adds richly to our understanding of homosexuality.

Bret Hinsch's reconstruction of the Chinese homosexual past reveals unexpected scenes. An emperor on his deathbed turns over the seals of the empire to a male beloved; two men marry each other with elaborate wedding rituals; parents sell their son into prostitution. The tradition portrays men from all levels of society—emperors, transvestite actors, rapists, elegant scholars, licentious monks, and even the nameless poor.

Drawing from dynastic histories, erotic novels, popular Buddhist tracts, love poetry, legal cases, and joke books, Passions of the Cut Sleeve evokes the complex and fascinating male homosexual tradition in China from the Bronze Age until its decline in recent times.
Praise For Passions of the Cut Sleeve: The Male Homosexual Tradition in China…
"Harvard scholar Hinsch's careful study belies the official Chinese notion that homosexuality is a recent import from the decadent West."
— Publishers Weekly

"For the light it shines on social history, on Chinese literature, and on sexuality, this brief study of the literary tradition of homosexuality in China, the most detailed that has appeared to date in any Western language, is a comforting revelation."
— China Quarterly

"This is an important book . . . [that] may help to bring about a more accurate awareness among East Asian peoples that hatred of same-sex eroticism is a prejudice that is alien to their rich cultural heritage."
— Journal of the History of Sexuality
University of California Press, 9780520078697, 256pp.
Publication Date: December 29, 1992
About the Author
Bret Hinsch is professor of history at Fo Guang University, Yilan, Taiwan.