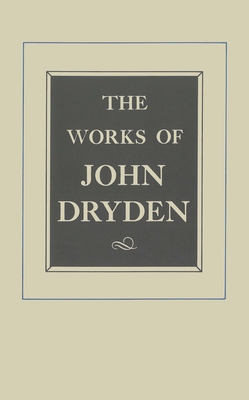 The Works of John Dryden, Volume XII (Hardcover)
Plays Ambboyna, The State of Innocence, Aureng-Zebe
University of California Press, 9780520082472, 578pp.
Publication Date: March 15, 1995
Other Editions of This Title:
Paperback (4/21/2015)
Paperback (4/21/2015)
Paperback (6/21/2014)
Paperback (6/18/2015)
Paperback (4/21/2015)
Hardcover (2/1/1998)
Hardcover (11/1/1970)
Hardcover (9/1/2002)
Hardcover (7/25/1979)
Hardcover (1/1/1972)
Hardcover (9/17/1974)
Hardcover (8/18/2008)
Hardcover (1/24/1985)
Paperback, Large Print (10/11/2007)
Paperback (10/11/2007)
Hardcover (5/1/1956)
Hardcover (4/20/1988)
Hardcover (4/6/1988)
Hardcover (1/1/1962)
* Individual store prices may vary.
Description
The three plays in this volume, composed between 1672 or 1673 and 1675, demonstrate Dryden's versatility and inventiveness as a dramatist. Amboyna, a tragedy written to stir the English to prosecute the Third Dutch War, describes the destruction by the Dutch of English trading posts on two Indonesian islands. Regarded in its time as sensationalist, it is really a dignified drama that decries violence. The State of Innocence, termed an opera, is a rhymed version of Milton's Paradise Lost. Though never performed or set to music, it became one of Dryden's most widely read dramas. Aureng-Zebe, the last and generally considered the best of Dryden's rhymed heroic plays, portrays the rise to power of Mogul emperor Aureng-Zebe (1618-1707).
About the Author
John Dryden was an English poet, literary critic, translator, and playwright who was made England's first Poet Laureate in 1668.  Vinton A. Dearing is Professor of English, University of California, Los Angeles.
or
Not Currently Available for Direct Purchase