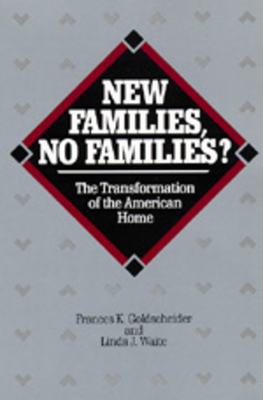 New Families, No Families? (Paperback)
The Transformation of the American Home (Studies in Demography #6)
University of California Press, 9780520083059, 356pp.
Publication Date: August 18, 1993
* Individual store prices may vary.
Description
Is the American family a thing of the past? Almost anyone can tell a story that illustrates how dramatically things have changed in the past decades. Nonmarriage, childlessness and divorce are commonplace. Most children leave their parents' home and live for increasing periods before marriage as independent adults. But there are also signs of strengths. Some parents play more equal roles, both financially and in coping with household tasks. In this revealing new study, Frances Goldscheider and Linda Waite discuss cogently the question of whether we are headed for no families, or new families.

Adults across the nation who reached "thirtysomething" in the early 1980s are the primary focus of the book, although broader patterns of social change are seen in the influence of their parents' experiences on them and in their own children's experiences of family life. The authors begin with their subjects as very young adults, examining their plans for work and family and their attitudes toward women's work and family roles. As these young men and women move farther into adulthood, we learn what influences their chances of marriage, their patterns of family building (and dissolving), and the division of labor in the families they form. In each case the authors focus on the effects of exposure to different family structures in childhood and young adulthood. The authors find, surprisingly, that the real threats to the family are in the home itself: the new option of "a home of one's own" in a variety of circumstances outside of marriage, most men's noninvolvement in the home and its tasks, and the fact that knowledge of and respect for basic skills involved in making a home are not being taught to today's sons and daughters.
About the Author
Frances K. Goldscheider is Director of the Population Studies and Training Center and Professor of Sociology at Brown University. Linda J. Waite is Professor of Sociology at the University of Chicago.