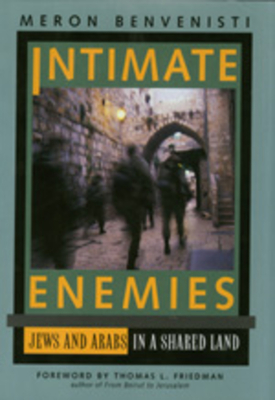 Intimate Enemies
Jews and Arabs in a Shared Land
Hardcover

* Individual store prices may vary.
Description
As Israelis and Palestinians negotiate separation and division of their land, Meron Benvenisti, former Deputy Mayor of Jerusalem, maintains that any expectations for "peaceful partition" are doomed. In his brave and controversial new book, he raises the possibility of a confederation of Israel/Palestine, the only solution that he feels will bring lasting peace.

The seven million people in the territory between Jordan and the Mediterranean are mutually dependent regarding employment, water, land use, ecology, transportation, and all other spheres of human activity. Each side, Benvenisti says, must accept the reality that two national entities are living within one geopolitical entity—their conflict is intercommunal and will not be resolved by population transfers or land partition.

A geographer and historian by training, a man passionately rooted in his homeland, Benvenisti skillfully conveys the perspective of both Israeli and Palestinian communities. He recognizes the great political and ideological resistance to a confederation, but argues that there are Israeli Jews and Palestinians who can envision an undivided land, where attachment to a common homeland is stronger than militant tribalism and segregation in national ghettos. Acknowledging that equal coexistence between Israeli and Palestinian may yet be an impossible dream, he insists that such a dream deserves a place in the current negotiations.

"Meron Benvenisti is the Middle East expert to whom Middle East experts go for advice . . . the most oft-quoted and oft-damned analyst in Israel."—from the Foreword by Thomas L. Friedman
University of California Press, 9780520085671, 250pp.
Publication Date: September 11, 1995
About the Author
Meron Benvenisti was Deputy Mayor of Jerusalem under Teddy Kollek from 1971 to 1978 and administered largely Arab East Jerusalem. In 1982 he established the West Bank Database Project. Currently a columnist for Haaretz, Israel's largest newspaper, he is the author of numerous books, including Conflicts and Contradictions (1986). Thomas L. Friedman has won two Pulitzer Prizes (1983, 1988) for his reporting from the Middle East. He is the author of From Beirut to Jerusalem (1989), which received the National Book Award for nonfiction.