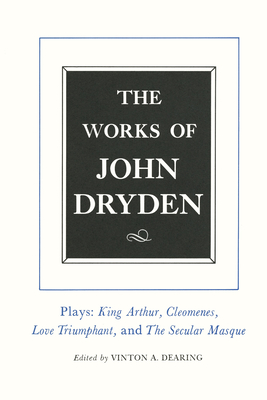 The Works of John Dryden, Volume XVI (Hardcover)
Plays: King Arthur, Cleomenes, Love Triumphant, and The Secular Masque and Other Contributions to The Pilgrim
University of California Press, 9780520087668, 559pp.
Publication Date: February 1, 1998
Other Editions of This Title:
Paperback (4/21/2015)
Paperback (4/21/2015)
Paperback (6/21/2014)
Paperback (6/18/2015)
Paperback (4/21/2015)
Hardcover (7/25/1979)
Hardcover (9/1/2002)
Paperback (10/11/2007)
Hardcover (5/30/1990)
Hardcover (3/1/1993)
Hardcover (11/1/1970)
Hardcover (4/20/1988)
Hardcover (4/6/1988)
Hardcover (9/17/1974)
Hardcover (4/7/1975)
Paperback, Large Print (10/11/2007)
Hardcover (3/15/1995)
Hardcover (5/1/1956)
Hardcover (1/1/1962)
* Individual store prices may vary.
Description
In the last decade of Dryden's life, he brought four new works before the theatre-going public: a dramatic opera, a tragedy, a tragicomedy, and a number of appendages to an old comedy by John Fletcher, which was revived partly so that Dryden might have the author's third-night profits. He died that night, but his family received the money. The dramatic opera, King Arthur, benefited from a fine score by Henry Purcell and has remained in the operatic repertoire to this day. Cleomenes, the tragedy, was banned until Dryden was able to convince Queen Mary that it did not reflect any seditious sympathy with the exiled James II, after which it was successful. The fate of Love Triumphant, the tragicomedy, was different; possibly because of a growing swell of moral reform, the play was universally damned, even though its themes of incest and miscellaneous fornication had never brought rejection to Dryden in the past. The Secular Masque, Dryden's principal contribution to The Pilgrim by Fletcher, had undistinguished music, but its lively verse and broad review of the previous century kept the piece on the stage for the next fifty years, and in anthologies up to the present.
About the Author
John Dryden was an English poet, literary critic, translator, and playwright who was made England's first Poet Laureate in 1668.  Vinton A. Dearing, editor of the California Dryden edition, is Professor of English at the University of California, Los Angeles.