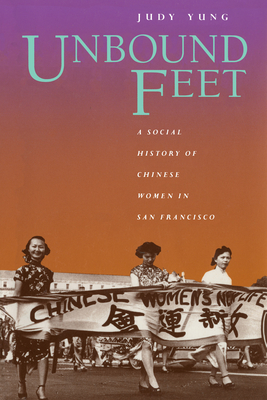 Unbound Feet (Paperback)
A Social History of Chinese Women in San Francisco
University of California Press, 9780520088672, 395pp.
Publication Date: November 15, 1995
* Individual store prices may vary.
Description
The crippling custom of footbinding is the thematic touchstone for Judy Yung's engrossing study of Chinese American women during the first half of the twentieth century. Using this symbol of subjugation to examine social change in the lives of these women, she shows the stages of "unbinding" that occurred in the decades between the turn of the century and the end of World War II.

The setting for this captivating history is San Francisco, which had the largest Chinese population in the United States. Yung, a second-generation Chinese American born and raised in San Francisco, uses an impressive range of sources to tell her story. Oral history interviews, previously unknown autobiographies, both English- and Chinese-language newspapers, government census records, and exceptional photographs from public archives and private collections combine to make this a richly human document as well as an illuminating treatise on race, gender, and class dynamics.

While presenting larger social trends Yung highlights the many individual experiences of Chinese American women, and her skill as an oral history interviewer gives this work an immediacy that is poignant and effective. Her analysis of intraethnic class rifts—a major gap in ethnic history—sheds important light on the difficulties that Chinese American women faced in their own communities. Yung provides a more accurate view of their lives than has existed before, revealing the many ways that these women—rather than being passive victims of oppression—were active agents in the making of their own history.
About the Author
Judy Yung is Assistant Professor of American Studies at the University of California, Santa Cruz. She is the author of Chinese Women of America: A Pictorial History (1986) and the coauthor of Island: Poetry and History of Chinese Immigrants on Angel Island (1980, 1991), which won the Before Columbus Foundation Book Award.