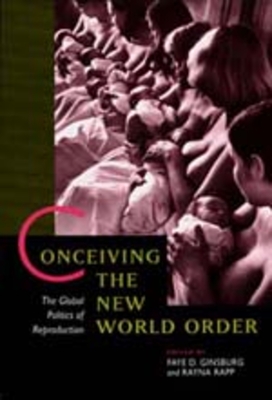 Conceiving the New World Order
The Global Politics of Reproduction
Paperback

* Individual store prices may vary.
Description
This groundbreaking volume provides a dramatic investigation of the dynamics of reproduction. In an unusually broad spectrum of essays, a distinguished group of international feminist scholars and activists explores the complexity of contemporary sexual politics around the globe. Using reproduction as an entry point in the study of social life and placing it at the center of social theory, the authors examine how cultures are produced, contested, and transformed as people imagine their collective future in the creation of the next generation.

The studies encompass a wide variety of subjects, from the impact of AIDS on reproduction in the United States to the aftereffects of Chernobyl on the Sami people in Norway and the impact of totalitarian abortion and birth control policies in Romania and China. The contributors use historical and comparative perspectives to illuminate the multiple and intersecting forms of power and resistance through which reproduction is given cultural weight and social form. They discuss the ways that seemingly distant influences shape and constrain local reproductive experiences such as the international flows of adoptive babies and childcare workers and the Victorian and imperial legacy of eugenics and family planning.
University of California Press, 9780520089143, 450pp.
Publication Date: July 31, 1995
About the Author
Faye D. Ginsburg is Associate Professor of Anthropology at New York University and the author of Contested Lives: The Abortion Debate in an American Community (California, 1989). Rayna Rapp is Professor of Anthropology and Chair of the Graduate Program in Gender Studies and Feminist Theory at the New School for Social Research.