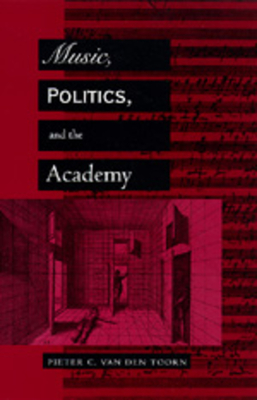 Music, Politics, and the Academy
Paperback

* Individual store prices may vary.
Description
Advocates of "new musicology" claim that technical methods of music analysis are conservative, elitist, positivist, and emotionally arid. Pieter C. van den Toorn challenges those claims, asking why cultural, sociopolitical, or gender-studies approaches to music should be deemed more democratic or expressive of music's content or impact. Why should music analysis be thought incapable of serving larger aesthetic ends?

Van den Toorn confronts Susan McClary, Leo Treitler, and Joseph Kerman in particular, arguing that hands-on music analysis can penetrate the complexity of music and speak to our experience of it. He criticizes new musicologists for retreating from issues of musical immediacy by focusing on cultural issues. In later chapters van den Toorn defends Schenkerian methods and demonstrates the usefulness of technical analysis in the appreciation of Beethoven, Debussy, Schoenberg, and Stravinsky.
University of California Press, 9780520201163, 252pp.
Publication Date: January 1, 1996
About the Author
Pieter C. van den Toorn is Associate Professor of Music at the University of California at Santa Barbara. He is the author of Stravinsky and the Rite of Spring (California, 1987) and The Music of Igor Stravinsky (1983).