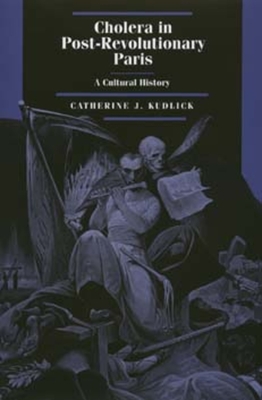 Cholera in Post-Revolutionary Paris (Hardcover)
A Cultural History (Studies on the History of Society and Culture #25)
University of California Press, 9780520202733, 319pp.
Publication Date: June 5, 1996
* Individual store prices may vary.
Description
Cholera terrified and fascinated nineteenth-century Europeans more than any other modern disease. Its symptoms were gruesome, its sources were mysterious, and it tended to strike poor neighborhoods hardest. In this insightful cultural history, Catherine Kudlick explores the dynamics of class relations through an investigation of the responses to two cholera epidemics in Paris.

While Paris climbed toward the height of its urban and industrial growth, two outbreaks of the disease ravaged the capital, one in 1832, the other in 1849. Despite the similarity of the epidemics, the first outbreak was met with general frenzy and far greater attention in the press, popular literature and personal accounts, while the second was greeted with relative silence. Finding no compelling evidence for improved medical knowledge, changes in the Paris environment, or desensitization of Parisians, Kudlick looks to the evolution of the French revolutionary tradition and the emergence of the Parisian bourgeoisie for answers.
About the Author
Catherine Kudlick is professor of history and director of the Paul K. Longmore Institute on Disability at San Francisco State University.
Praise For Cholera in Post-Revolutionary Paris: A Cultural History (Studies on the History of Society and Culture #25)…
"This thought-provoking book uses the responses of the Parisian bourgeoisie to the 1832 and 1849 cholera epidemics to measure their evolving mentality during the reign of Louis Philippe, a regime ushered in by one revolution and ended by another. Historians have an unspoken fallacy: mentalities change among the peasantry and the nobility, but the bourgeois outlook on life remains constant. Catherine Kudlick deftly explodes this notion by contrasting the noisy and polemical response of the bourgeoisie—physicians, administrators, and others—to the 1832 cholera with their much milder response to the 1849 epidemic." 
— Bulletin of the History of Medicine
"With clarity, style, and daring, Catherine J. Kudlick analyzes how the Parisian bourgeoisie responded to two cholera epidemics." 
— History: Reviews of New Books