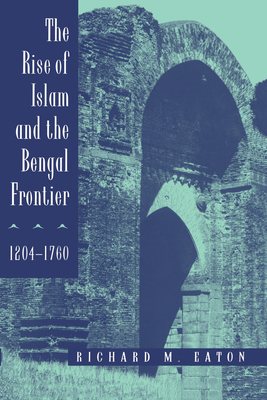 The Rise of Islam and the Bengal Frontier, 1204-1760 (Comparative Studies on Muslim Societies #17)
Paperback

* Individual store prices may vary.
Description
In all of the South Asian subcontinent, Bengal was the region most receptive to the Islamic faith. This area today is home to the world's second-largest Muslim ethnic population. How and why did such a large Muslim population emerge there? And how does such a religious conversion take place? Richard Eaton uses archaeological evidence, monuments, narrative histories, poetry, and Mughal administrative documents to trace the long historical encounter between Islamic and Indic civilizations.

Moving from the year 1204, when Persianized Turks from North India annexed the former Hindu states of the lower Ganges delta, to 1760, when the British East India Company rose to political dominance there, Eaton explores these moving frontiers, focusing especially on agrarian growth and religious change.
Praise For The Rise of Islam and the Bengal Frontier, 1204-1760 (Comparative Studies on Muslim Societies #17)…
"For the study of Islam in Bengal, [The Rise of Islam and the Bengal Frontier, 1207-1760] is . . . the most important book to appear to date, and it deserves to be read by all historians of India and the Islamic world." 
— International History Review

"Enormously rich and insightful."
— American Historical Review

"Magnificent. . . . Eaton has provided something unique in Indo-Islamic studies. . . . [He] ranges over the important aspects of that community's history, whether political and social, or cultural and religious. . . . This study must rank among the finest contributions to South Asian scholarship to appear for some while." 
— CHOICE

"Richard M. Eaton takes up two original questions and provides answers that should remain definitive."
— International Journal of Middle Eastern Studies
University of California Press, 9780520205079, 388pp.
Publication Date: July 31, 1996
About the Author
Richard M. Eaton is Professor of History at the University of Arizona and the author of several groundbreaking books on India before 1800.