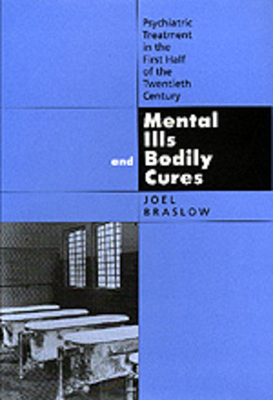 Mental Ills and Bodily Cures
Psychiatric Treatment in the First Half of the Twentieth Century (Medicine and Society #8)
Hardcover

* Individual store prices may vary.
Description
Mental Ills and Bodily Cures depicts a time when psychiatric medicine went to lengths we now find extreme and perhaps even brutal ways to heal the mind by treating the body. From a treasure trove of California psychiatric hospital records, including many verbatim transcripts of patient interviews, Joel Braslow masterfully reconstructs the world of mental patients and their doctors in the first half of the twentieth century. Hydrotherapy, sterilization, electroshock, lobotomy, and clitoridectomy—these were among the drastic somatic treatments used in these hospitals.

By allowing the would-be healers and those in psychological and physical distress to speak for themselves, Braslow captures the intense and emotional interplay surrounding these therapies. His investigation combines revealing clinical detail with the immediacy of "being there" in the institutional setting while decisions are made, procedures undertaken, and results observed by all those involved. We learn how well-intentioned physicians could rationalize and regard as therapeutic treatments that often had dreadful consequences, and how much the social and cultural world is inscribed within the practice of biological psychiatry. The book will interest historians of medicine, practicing psychiatrists, and everyone who knows or has seen what it's like to be in mental distress.
Praise For Mental Ills and Bodily Cures: Psychiatric Treatment in the First Half of the Twentieth Century (Medicine and Society #8)…
"Braslow writes with a light touch, and the book makes riveting reading, particularly the bits of dialogue between psychiatrists and patients that he excerpted from the transcripts. Anyone interested in learning how the arrogance of science and pseudoscience can lead medicine over the brink will profit from reading this biased but rewarding study."
— New England Journal of Medicine
University of California Press, 9780520205475, 262pp.
Publication Date: October 6, 1997
About the Author
Joel Braslow is a psychiatrist and historian whose work focuses on the social, cultural, and scientific constitution of therapeutic practices in medicine and psychiatry. He has been a faculty member in the UCLA Department of Psychiatry and Biobehavioral Sciences since 1992, and the UCLA Department of History since 1996.