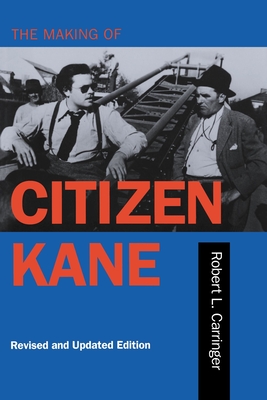 The Making of Citizen Kane, Revised edition
Paperback

* Individual store prices may vary.
Description
Citizen Kane, widely considered the greatest film ever made, continues to fascinate critics and historians as well as filmgoers. While credit for its genius has traditionally been attributed solely to its director, Orson Welles, Carringer's pioneering study documents the shared creative achievements of Welles and his principal collaborators. The Making of Citizen Kane, copiously illustrated with rare photographs and production documents, also provides an in-depth view of the operations of the Hollywood studio system. This new edition includes a revised preface and overview of criticism, an updated chronology of the film's reception history, a reconsideration of the locus of responsibility of Welles's ill-fated The Magnificent Ambersons, and new photographs.
Praise For The Making of Citizen Kane, Revised edition…
"This revised and updated edition has been enlarged to include a new preface, new photos, and a discussion of Welles's second feature, The Magnificent Ambersons. . . . Considering Kane's importance to American film, this is essential for all movie collections."
— Library Journal

"Carringer has had access to previously inaccessible studio records, resulting in an unprecedentedly documented account of the collaborative creation of Kane; Carringer has also interviewed numerous participants in the film's making, including Welles himself. The result is not only new knowledge about Kane, but a new understanding about how films were made in the studio system."
— Film Quarterly

"A meticulous technical study . . . not only reminds us of why we want to read about Welles in the first place, but comes closer to the core of the man than [biographies of Welles]."
— Village Voice
University of California Press, 9780520205673, 185pp.
Publication Date: October 24, 1996
About the Author
Robert L. Carringer is Professor of English and Film at the University of Illinois, at Urbana-Champaign. He is also the author of The Magnificent Ambersons: A Reconstruction (California, 1993).