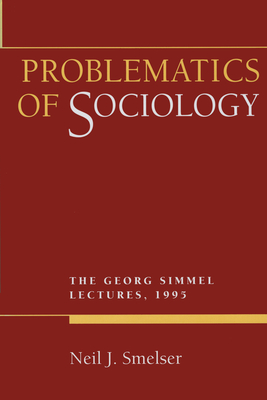 Problematics of Sociology
The Georg Simmel Lectures, 1995
Hardcover

* Individual store prices may vary.
Description
These skillfully written essays are based on the Georg Simmel Lectures delivered by Neil J. Smelser at Humboldt University in Berlin in the spring of 1995. A distillation of Smelser's reflections after nearly four decades of research, teaching, and thought in the field of sociology, the essays identify, as he says in the first chapter, ". . . some central problematics—those generic, recurrent, never resolved and never completely resolvable issues—that shape the work of the sociologist."

Each chapter considers a different level of sociological analysis: micro (the person and personal interaction), meso (groups, organizations, movements), macro (societies), and global (multi-societal). Within this framework, Smelser covers a variety of topics, including the place of the rational and the nonrational in social action and in social science theory; the changing character of group attachments in post-industrial society; the eclipse of social class; and the decline of the nation-state as a focus of solidarity.

The clarity of Smelser's writing makes this a book that will be welcomed throughout the field of social science as well as by anyone wishing to understand sociology's essential characteristics and problems.
University of California Press, 9780520206755, 138pp.
Publication Date: February 26, 1997
About the Author
Neil J. Smelser is Director of the Center for Advanced Study in the Behavioral Sciences in Stanford, California, and University Professor Emeritus of Sociology at the University of California, Berkeley. His many books include Social Paralysis and Social Change: British Working-Class Education in the Nineteenth Century (California, 1991). Hans-Peter Müller is Professor of Sociology at Humboldt University, Berlin.