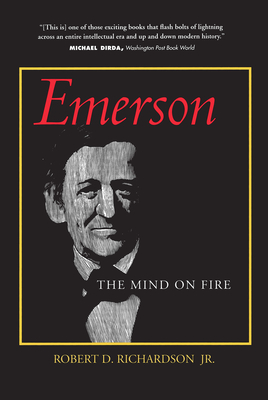 Emerson
The Mind on Fire
Paperback

* Individual store prices may vary.
Description
Ralph Waldo Emerson is one of the most important figures in the history of American thought, religion, and literature. The vitality of his writings and the unsettling power of his example continue to influence us more than a hundred years after his death. Now Robert D. Richardson Jr. brings to life an Emerson very different from the old stereotype of the passionless Sage of Concord. Drawing on a vast amount of new material, including correspondence among the Emerson brothers, Richardson gives us a rewarding intellectual biography that is also a portrait of the whole man.

These pages present a young suitor, a grief-stricken widower, an affectionate father, and a man with an abiding genius for friendship. The great spokesman for individualism and self-reliance turns out to have been a good neighbor, an activist citizen, a loyal brother. Here is an Emerson who knew how to laugh, who was self-doubting as well as self-reliant, and who became the greatest intellectual adventurer of his age.

Richardson has, as much as possible, let Emerson speak for himself through his published works, his many journals and notebooks, his letters, his reported conversations. This is not merely a study of Emerson's writing and his influence on others; it is Emerson's life as he experienced it. We see the failed minister, the struggling writer, the political reformer, the poetic liberator.

The Emerson of this book not only influenced Thoreau, Fuller, Whitman, Dickinson, and Frost, he also inspired Nietzsche, William James, Baudelaire, Marcel Proust, Virginia Woolf, and Jorge Luis Borges. Emerson's timeliness is persistent and striking: his insistence that literature and science are not separate cultures, his emphasis on the worth of every individual, his respect for nature.

Richardson gives careful attention to the enormous range of Emerson's readings—from Persian poets to George Sand—and to his many friendships and personal encounters—from Mary Moody Emerson to the Cherokee chiefs in Boston—evoking both the man and the times in which he lived. Throughout this book, Emerson's unquenchable vitality reaches across the decades, and his hold on us endures.
Praise For Emerson: The Mind on Fire…
"Richardson's 671-page biography of Emerson is a page turner. The adventures are the adventures of a reader. And, of course, a thinker, a writer."
— Los Angeles Times

"A worthy addition to the library of books on one of America's foremost thinkers."
— New York Times

"Richardson balances the often chilling puritanism of Emerson's writing with a portrait of the man as hungry for friendship, maintaining close relationships with Carlisle, Thoreau, Bronson Alcott and Margaret Fuller; and whose icy doctrine of individualism reflects the loneliness caused by the premature deaths of his beloved first wife, his two younger brothers and numerous friends."
— Publishers Weekly

"A captivating account of the originality, creativity, and genius of the American Coleridge."
— Library Journal

"An electrifying work . . . a phenomenal piece of portraiture"
— New York Newsday

"Emerson: The Mind on Fire is an unusually intelligent and involving book. Richardson himself writes with grace, vigor, acuity, and imagination. No other recent critic of Emerson . . . has written so well. This book is equal to the best American literary biographies we have and is arguably the best single book on Emerson ever written."
— Journal of American History

"What Richardson has produced . . . a valuable, perhaps indispensable, paean to the intellectual life: we emerge from a reading of it fairly staggered by Emerson's sustained energy-even through his moments of doubt-and by the uncompromising honesty of Emerson's engagements with himself, with literature, nature, and society."
— American Literature

"The Mind on Fire integrates heart and head without ever confusing the two; it presents exciting readings of Emerson's major works; it reveals a productive emotional vitality in ways never before shown; it is learned, accurate, judicious, and comprehensive, crisp in its conclusions, poetic in its language, too respectful of its subject ever to make him stodgy. The book is aptly titled, with its allusion to Emerson's volcanic metaphor for the creative mind, for Richardson's book truly fires the imagination."
— New England Quarterly

"One of the great achievements in contemporary American literary studies. . . . Aside from his learning, which is prodigious, Richardson writes a wonderfully fluent, agile prose; he has a poet's sense of nuance and a novelist's grasp of dramatic rhythm; he also displays a positive genius for apt quotation."
— John Banville,
University of California Press, 9780520206892, 684pp.
Publication Date: November 6, 1996
About the Author
Robert D. Richardson Jr., Adjunct Professor of Letters at Wesleyan University, is also the author of Henry Thoreau: A Life of the Mind (California, 1986), which won the Melcher Prize in 1987. Barry Moser is one of the foremost wood engravers and book illustrators in America.