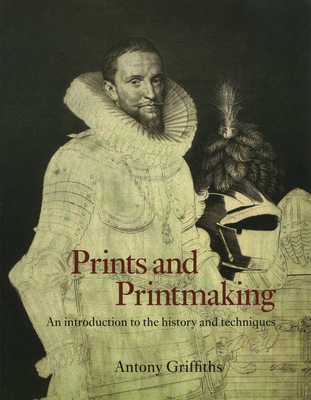 Prints and Printmaking (Paperback)
An Introduction to the History and Techniques
University of California Press, 9780520207141, 152pp.
Publication Date: September 1, 1996
* Individual store prices may vary.
Description
A print is a pictorial image that has been produced by a process that enables it to be multiplied, and many of the best-known works by some of the world's greatest artists are prints. Yet little is understood about this popular art form. Now Antony Griffiths provides an excellent introduction for anyone who wishes to acquire a basic understanding of prints and printmaking. In succinct and lucid language, he explains the different printmaking techniques and shows both details and whole prints to demonstrate the effects that can be achieved. Woodcuts, engraving, etching, mezzotint, and lithography are among the many processes explained, illustrated, and placed within a historical context.

This fully revised and updated edition of the highly praised 1980 British publication is available for the first time in the United States. With its complete glossary, index, and helpful illustrations, Griffiths's book is the essential foundation for an intelligent appreciation of the printmaker's art.
About the Author
Antony Griffiths is a British museum curator and art historian, specializing in prints and drawings. From 1991 to 2011, he served as Keeper of the Department of Prints and Drawings, British Museum. He is the co-author of Avant-Garde British Printmaking, 1914-1960 and German Printmaking in the Age of Goethe. He is the editor of Landmarks in Print Collecting: Connoisseurs and Donors at the British Museum since 1753.
Praise For Prints and Printmaking: An Introduction to the History and Techniques…
"In this second edition of a book first published in 1980, Griffiths, a specialist in the Department of Prints and Drawing at the British Museum, claims to have corrected errors in the first edition and to have updated the well-organized bibliography. The book makes the modest claim of being an introductory text that touches on the basics of various printmaking techniques and briefly describes the history of each. It is strongest in the area of history, and a great deal of information is systematically presented in a relatively short space. The illustrations, all taken from the collections of the British Museum, are well chosen and beautifully reproduced. As with many books of this nature, the reader will wish for illustrations of all of the works mentioned, but this title makes no claim to be comprehensive, and the excellent bibliography will lead interested readers further. An excellent choice as a main or supplemental course text, it will serve any library as a basic overview of the subject."
— Library Journal
"[This is] surely the most civilized and accessible book on printmaking now available."
— Royal Society of Arts Journal
or
Not Currently Available for Direct Purchase