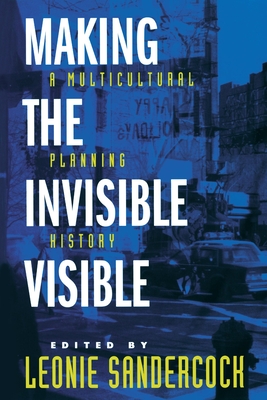 Making the Invisible Visible
A Multicultural Planning History (California Studies in Critical Human Geography #2)
Paperback

* Individual store prices may vary.
Description
The history of planning is much more, according to these authors, than the recorded progress of planning as a discipline and a profession. These essays counter the mainstream narrative of rational, scientific development with alternative histories that reveal hitherto invisible planning practices and agendas. While the official story of planning celebrates the state and its traditions of city building and regional development, these stories focus on previously unacknowledged actors and the noir side of planning.

Through a variety of critical lenses—feminist, postmodern, and postcolonial—the essays examine a broad range of histories relevant to the preservation and planning professions. Some contributors uncover indigenous planning traditions that have been erased from the record: African American and Native American traditions, for example. Other contributors explore new themes: themes of gendered spaces and racist practices, of planning as an ordering tool, a kind of spatial police, of "bodies, cities, and social order" (influenced by Foucault, Lefebvre, and others), and of resistance.

This scrutiny of the class, race, gender, ethnic, or ideological biases of ideas and practices inherent in the notion of planning as a modernist social technology clearly points to the inadequacy of modernist planning histories. Making the Invisible Visible redefines planning as the regulation of the physicality, sociality, and spatiality of the city. Its histories provide the foundation of a new, alternative planning paradigm for the multicultural cities of the future.
Praise For Making the Invisible Visible: A Multicultural Planning History (California Studies in Critical Human Geography #2)…
"The book deserves reading by a select audience interested in planning history and theory."
— Public Historian
"More than anything else this book represents a clear call to all those involved in the writing (and teaching) of planning history of the need to remember that processes of exclusion are rarely documented in mainstream planning history. . . . The work deserves a wide audience, notwithstanding its largely American provenance."
— Town Planning Review
University of California Press, 9780520207356, 268pp.
Publication Date: February 8, 1998
About the Author
Leonie Sandercock is Professor of Human Settlements and Head of the Department of Landscape, Environment, and Planning at the Royal Melbourne Institute of Technology in Australia.