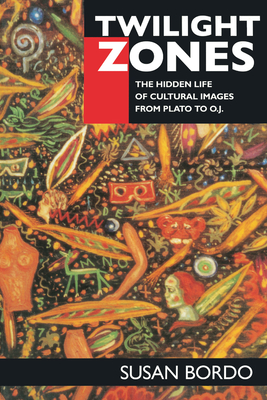 Twilight Zones
The Hidden Life of Cultural Images from Plato to O.J.
Paperback

* Individual store prices may vary.
Description
Considering everything from Nike ads, emaciated models, and surgically altered breasts to the culture wars and the O.J. Simpson trial, Susan Bordo deciphers the hidden life of cultural images and the impact they have on our lives. She builds on the provocative themes introduced in her acclaimed work Unbearable Weight—which explores the social and political underpinnings of women's obsession with bodily image—to offer a singularly readable and perceptive interpretation of our image-saturated culture. As it becomes increasingly difficult to distinguish between appearance and reality, she argues, we need to rehabilitate the notion that not all versions of reality are equally trustworthy. Bordo writes with deep compassion, unnerving honesty, and bracing intelligence. Looking to the body and bodily practices as a concrete arena where cultural fantasies and anxieties are played out, she examines the mystique and the reality of empowerment through cosmetic surgery. Her brilliant discussion of sexual harassment reflects on the Clarence Thomas/Anita Hill controversy as well as the film Disclosure. She suggests that sexuality, although one of the mediums of harassment, is not its essence, and she calls for the recasting of harassers as bullies rather than sex fiends. Bordo also challenges the continuing marginalization of feminist thought, in particular the failure to read feminist work as cultural criticism. Finally, in a powerful and moving essay called "Missing Kitchens"—written in collaboration with her two sisters—Bordo explores notions of bodies, place, and space through a recreation of the topographies of her childhood. Throughout these essays, Bordo avoids dogma and easy caricature. Consistently, and on many levels, she demonstrates the profound relationship between our lives and our theories, our feelings and our thoughts.
University of California Press, 9780520211025, 252pp.
Publication Date: February 10, 1999
About the Author
Susan Bordo is Professor of Philosophy and Otis A. Singletary Chair of Humanities at the University of Kentucky. She is the author of Uncovering the Male Body (forthcoming, 1999), Unbearable Weight: Feminism, Western Culture, and the Body (California, 1993), and The Flight to Objectivity: Essays on Cartesiansim and Culture (1987), and is also the coeditor of Gender/Body/Knowledge: Feminist Reconstructions of Being and Knowing (1989).