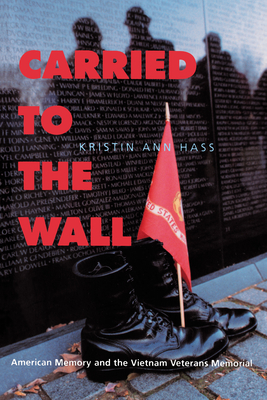 Carried to the Wall
American Memory and the Vietnam Veterans Memorial
Paperback

* Individual store prices may vary.
Description
On May 9, 1990, a bottle of Jack Daniels, a ring with letter, a Purple Heart and Bronze Star, a baseball, a photo album, an ace of spades, and a pie were some of the objects left at the Vietnam Veterans War Memorial. For Kristin Hass, this eclectic sampling represents an attempt by ordinary Americans to come to terms with a multitude of unnamed losses as well as to take part in the ongoing debate of how this war should be remembered. Hass explores the restless memory of the Vietnam War and an American public still grappling with its commemoration. In doing so it considers the ways Americans have struggled to renegotiate the meanings of national identity, patriotism, community, and the place of the soldier, in the aftermath of a war that ruptured the ways in which all of these things have been traditionally defined. Hass contextualizes her study of this phenomenon within the history of American funerary traditions (in particular non-Anglo traditions in which material offerings are common), the history of war memorials, and the changing symbolic meaning of war. Her evocative analysis of the site itself illustrates and enriches her larger theses regarding the creation of public memory and the problem of remembering war and the resulting causalities—in this case not only 58,000 soldiers, but also conceptions of masculinity, patriotism, and working-class pride and idealism.
Praise For Carried to the Wall: American Memory and the Vietnam Veterans Memorial…
"In this fascinating work, Kristin Ann Hass studies the attempts by Americans to come to terms with the Vietnam War and its legacy in American culture."
— Virginia Quarterly Review
University of California Press, 9780520213173, 205pp.
Publication Date: August 7, 1998
About the Author
Kristin Ann Hass is Lecturer in the Program in American Culture at the University of Michigan, Ann Arbor.