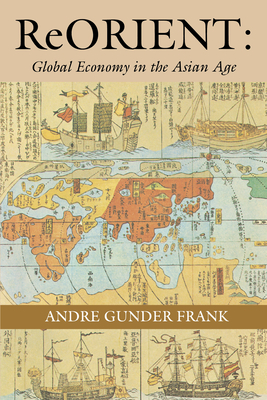 ReORIENT
Global Economy in the Asian Age
Paperback

* Individual store prices may vary.
Description
Andre Gunder Frank asks us to ReOrient our views away from Eurocentrism—to see the rise of the West as a mere blip in what was, and is again becoming, an Asia-centered world. In a bold challenge to received historiography and social theory he turns on its head the world according to Marx, Weber, and other theorists, including Polanyi, Rostow, Braudel, and Wallerstein. Frank explains the Rise of the West in world economic and demographic terms that relate it in a single historical sweep to the decline of the East around 1800. European states, he says, used the silver extracted from the American colonies to buy entry into an expanding Asian market that already flourished in the global economy. Resorting to import substitution and export promotion in the world market, they became Newly Industrializing Economies and tipped the global economic balance to the West. That is precisely what East Asia is doing today, Frank points out, to recover its traditional dominance. As a result, the "center" of the world economy is once again moving to the "Middle Kingdom" of China. Anyone interested in Asia, in world systems and world economic and social history, in international relations, and in comparative area studies, will have to take into account Frank's exciting reassessment of our global economic past and future.
Praise For ReORIENT: Global Economy in the Asian Age…
"A stimulating and thoughtful book that should be read by all serious students of the modern world system."
— American Journal of Sociology

"Frank justifiably calls this his best book. . . . [He] gives world history new sophistication and new challenges."
— Journal of Interdisciplinary History

"This stunning synthesis by a veteran world historian looks sure to land in reading guides, figure in seminars, and be the subject of conferences. It is written with verve and enthusiasm in a conviction of novelty that reaches prophetic fervor."
— American Historical Review

"No scholar can afford to ignore this serious book."
— Journal of World History

This is a provocative book, for it challenges the conventional wisdom in historiography and social theory."
— Review of Politics

"This marvelously ambitious and erudite historical take on the global economy has resonance within multiple contexts."
— Millennium: Journal of International Studies

"A giant leap toward applications of world systemic apparatus to historical inquiry and makes significant historiographical and theoretical contributions to the field."
— World History Connected
University of California Press, 9780520214743, 352pp.
Publication Date: July 31, 1998
About the Author
Andre Gunder Frank (1929-2005), of the University of Toronto, published more than thirty books. He coedited, with Barry Gills, World System: Five Hundred Years or Five Thousand? (1996).