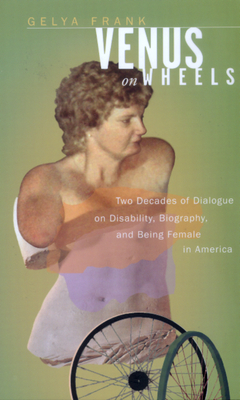 Venus on Wheels (Paperback)
Two Decades of Dialogue on Disability, Biography, and Being Female in America
University of California Press, 9780520217164, 299pp.
Publication Date: May 30, 2000
* Individual store prices may vary.
Description
In 1976 Gelya Frank began writing about the life of Diane DeVries, a woman born with all the physical and mental equipment she would need to live in our society--except arms and legs. Frank was 28 years old, DeVries 26. This remarkable book--by turns moving, funny, and revelatory--records the relationship that developed between the women over the next twenty years. An empathic listener and participant in DeVries's life, and a scholar of the feminist and disability rights movements, Frank argues that Diane DeVries is a perfect example of an American woman coming of age in the second half of the twentieth century. By addressing the dynamics of power in ethnographic representation, Frank--anthropology's leading expert on life history and life story methods--lays the critical groundwork for a new genre, "cultural biography."

Challenged to examine the cultural sources of her initial image of DeVries as limited and flawed, Frank discovers that DeVries is gutsy, buoyant, sexy--and definitely not a victim. While she analyzes the portrayal of women with disabilities in popular culture--from limbless circus performers to suicidal heroines on the TV news--Frank's encounters with DeVries lead her to come to terms with her own "invisible disabilities" motivating the study. Drawing on anthropology, philosophy, psychoanalysis, narrative theory, law, and the history of medicine, Venus on Wheels is an intellectual tour de force.
About the Author
Gelya Frank is a cultural anthropologist on the faculty of the Departments of Occupational Science & Occupational Therapy and Anthropology at the University of Southern California. She is the coauthor of Lives: An Anthropological Approach to Biography (1981).