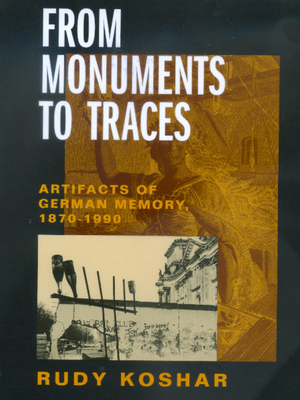 From Monuments to Traces
Artifacts of German Memory, 1870-1990 (Weimar and Now: German Cultural Criticism #24)
Hardcover

* Individual store prices may vary.
Description
Rudy Koshar constructs a powerful framework in which to examine the subject of German collective memory, which for more than a half century has been shaped by the experience of Nazism, World War II, and the Holocaust. Finding the assumptions of many writers and scholars shortsighted, Koshar surveys the evidence of postwar German memory in the context of previous traditions. From Monuments to Traces follows the evolution of German "memory landscapes" all the way from national unification in 1870-71 through the world wars and political division to reunification in 1990.

The memory landscapes of any society may incorporate monuments, historical buildings, memorials and cemeteries, battlefields, streets, or natural environments that foster shared memories of important events or personalities. They may also be designed to divert public attention from embarrassing or traumatic histories. Koshar argues that in Germany, memory landscapes have taken shape according to four separate paradigms--the national monument, the ruin, the reconstruction, and the trace--which he analyzes in relation to the changing political agendas that have guided them over time. Despite the massive ruptures of Germany's history, we see that significant continuities have served to counterbalance the traumas of the German past.
University of California Press, 9780520217683, 368pp.
Publication Date: July 18, 2000
About the Author
Rudy Koshar, DAAD Professor of German and European Studies at the University of Wisconsin, Madison, is the author of Germany's Transient Pasts (1998) and two other books.