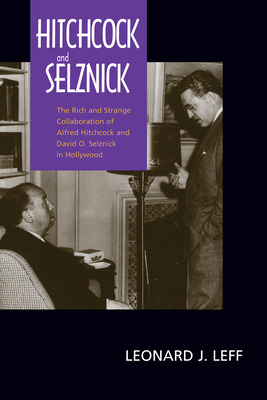 Hitchcock and Selznick
The Rich and Strange Collaboration of Alfred Hitchcock and David O. Selznick in Hollywood
Paperback

* Individual store prices may vary.
Description
Hitchcock and Selznick is the story of one of the oddest partnerships in Hollywood history, the union of a reticent, overweight Englishman with a flair for striking detail and a penchant for the perverse, and a dynamic movie mogul with a keen eye for successful entertainment on the grand scale. It began in 1938, when producer David O. Selznick agreed to bring director Alfred Hitchcock from England, where he was already gaining widespread acclaim for his "little thrillers," and the collaboration resulted in the making of such masterpieces as Rebecca, Spellbound, and Notorious.

Hitchcock was soft-spoken and meticulous; Selznick was confrontational and chronically disorganized. They were, moreover, two geniuses with wholly different approaches to filmmaking. The sparks that flew between them over the next eight years ignited into some of Hitchcock's most memorable achievements, but they made collaboration impossible in the end. Drawing on unpublished documents, early drafts of script treatments, and humorous production anecdotes—and including a wealth of previously unseen photographs—Leonard Leff has written a book for specialist and layman alike, a fascinating behind-the-scenes portrait not only of two great Hollywood figures but of the film industry itself.
University of California Press, 9780520217812, 398pp.
Publication Date: March 2, 1999
About the Author
Leonard Leff is Professor of English at Oklahoma State University and author most recently of Hemingway and His Conspirators: Hollywood, Scribners, and the Making of American Celebrity Culture (1997).