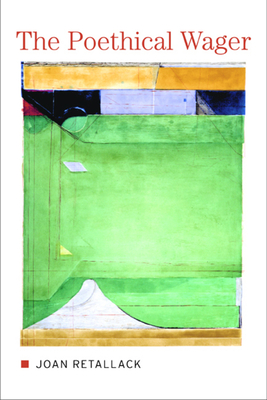 The Poethical Wager (Paperback)
University of California Press, 9780520218413, 291pp.
Publication Date: March 4, 2004
* Individual store prices may vary.
Description
In these highly inventive essays, Joan Retallack, acclaimed poet and essayist, conveys her unique post-utopian vision as she explores the relationship between art and life in today's chaotic world. In the tradition of the essay as complex humanist exploration, she engages ideas from across history: Aristotle's definition of happiness, Epicurus's swerve into unpredictable possibility, Montaigne's essays as an instrument of self-invention, John Cage's redefinition of Silence. Within her unifying rubric of poethics, Retallack gives the reader plenty of surprises with a wonderful range of examples, situations, and texts through which she conducts her exploration. A computer glitch, a passage from Gertrude Stein's favorite detective novelist, the idea of the experimental feminine, a John Cage performance—all serve as occasions for inquiry and speculation on the way to her poethics of a "complex realism."
About the Author
Joan Retallack is John D. and Catherine T. MacArthur Professor of Humanities at Bard College. She is author of How to Do Things with Words (1998), Musicage: Cage Muses on Words Art Music (1996), Afterrimages (1995), and Errata 5uite (1993), among other books.