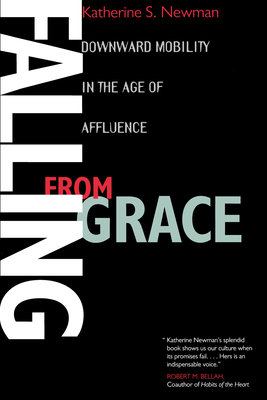 Falling from Grace
Downward Mobility in the Age of Affluence
Paperback

* Individual store prices may vary.
Description
Over the last three decades, millions of people have slipped through a loophole in the American dream and become downwardly mobile as a result of downsizing, plant closings, mergers, and divorce: the middle-aged computer executive laid off during an industry crisis, blue-collar workers phased out of the post-industrial economy, middle managers whose positions have been phased out, and once-affluent housewives stranded with children and a huge mortgage as the result of divorce. Anthropologist Katherine S. Newman interviewed a wide range of men, women, and children who experienced a precipitous fall from middle-class status, and her book documents their stories. For the 1999 edition, Newman has provided a new preface and updated the extensive data on job loss and downward mobility in the American middle class, documenting its persistence, even in times of prosperity.
University of California Press, 9780520218420, 342pp.
Publication Date: February 26, 1999
About the Author
Katherine S. Newman is Ford Foundation Professor of Urban Studies, Kennedy School of Government, Harvard University, and the author of No Shame in My Game: The Working Poor in the Inner City (1999), Declining Fortunes: The Withering of the American Dream (1994), and Law and Economic Organization (1983).