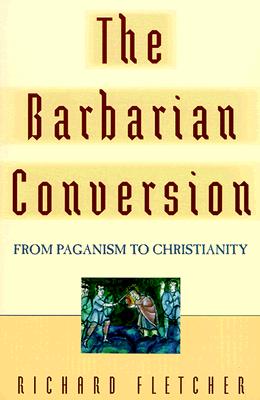 The Barbarian Conversion
From Paganism to Christianity
Paperback

* Individual store prices may vary.
Description
In a work of splendid scholarship that reflects both a firm mastery of difficult sources and a keen intuition, one of Britain's foremost medievalists tells the story of the Christianization of Europe. It is a very large story, for conversion encompassed much more than religious belief. With it came enormous cultural change: Latin literacy and books, Roman notions of law and property, and the concept of town life, as well as new tastes in food, drink, and dress. Whether from faith or by force, from self-interest or by revelation, conversion had an immense impact that is with us even today. It is Richard Fletcher's achievement in this superb work that he makes that impact both felt and understood.
Praise For The Barbarian Conversion: From Paganism to Christianity…
"A magnum opus in terms of scope, grandeur, and importance . . . Fletcher's signal achievement is the stylish lucidity with which he illuminates potentially cumbrous material."
— Boston Globe

"It is a magnificent story, the beginning of European Christian culture, and Richard Fletcher tells it with immense learning, keen insight and literary grace."
— Los Angeles Times

"Fletcher is an even-handed, creative historian. Well written and engaging, his book stands as a uniquely ambitious metahistory. His suggestions for further reading provide direction for more focused inquiry. "
— Kirkus Reviews

"Fletcher's lucid presentation and lively and engaging style will carry even casual readers smoothly along. Recommended for both academic and public libraries."
— Library Journal

"Fletcher weaves a rich tapestry out of a complex array of materials. He carefully addresses a nonspecialist audience, largely abandoning explanation of the acceptance of Christianity in favor of description of it. Guided by 10 considerations concerning evangelism and conversion, communication and acceptance, he is sensitive to the various ways in which Europe was Christianized and Christianity Europeanized during the course of a thousand years and amid considerable cultural, geographic, and linguistic diversity. . . . His narrative provides essential background for understanding Christianity's shape and cultural impact today, at the end of its second millennium."
— Booklist

"An absorbing account of the most important event in the history of Europe: its conversion to Christianity. . . . Fletcher is a stylist not merely in the sense that like Gibbon he is a master of the memorable sentence, but in the historian's task of weaving the particular instance into the web of a compelling narrative."
— The Spectator
University of California Press, 9780520218598, 575pp.
Publication Date: November 1, 1999
About the Author
Richard Fletcher (1944-2005) was Professor of History at the University of York. Among his books are Moorish Spain (California, 1992).