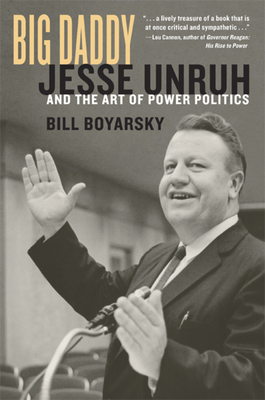 Big Daddy (Hardcover)
Jesse Unruh and the Art of Power Politics
University of California Press, 9780520219670, 278pp.
Publication Date: November 26, 2007
* Individual store prices may vary.
Description
Revealing and frank, this highly engaging biography tells the story of an American original, California's Big Daddy, Jesse Unruh (1922-1987), a charismatic man whose power reached far beyond the offices he held. Unruh, who was born into Texas sharecropper poverty, became a larger-than-life figure and a principal architect and builder of modern California—first as an assemblyman, then as assembly speaker, and finally, as state treasurer. He was also a great character: a combination of intelligence, wit, idealism, cynicism, woman-chasing vulgarity, charm, drunken excess, and political skill all wrapped up in one big package. He dominated the California capitol and extended his influence to Washington and Wall Street. He was close to Lyndon Johnson and the Kennedys, but closest to Robert Kennedy, and was in the Ambassador Hotel kitchen when Kennedy was shot. Bill Boyarsky gives a close-up look at this extraordinary political leader, a man who believed that politics was the art of the possible, and his era.
About the Author
Bill Boyarsky is Lecturer at the Annenberg School for Communications, University of Southern California. In his 30 years with the Los Angeles Times, Boyarsky was a political writer, featured columnist, and city editor. He was a member of reporting teams that won three Pulitzer Prizes. He is the author of two biographies of Ronald Reagan. He is author of Los Angeles: City of Dreams; and with his wife, Nancy, he coauthored Backroom Politics.
Praise For Big Daddy: Jesse Unruh and the Art of Power Politics…
"Filled with the kind of insights that only a seasoned observer of the ways of Sacramento could provide."
— San Francisco Chronicle
"For those who revere the era of California politics when personalities were bigger than political offices in a state where the future seemed brighter every day, this book is a 'must read.'"
— Larry N. Gerston
"Sheds light on California's less-than-sedate politics after World War II . . . a telling perspective on the present state of our political affairs."
— Peter Schrag
"For insight into California's government, history and politics, or simply an account of a fascinating personality, this is a book well worth reading."
— Richard M. Mosk
"A veteran political reporter provides much detail and insight into both his [Unruh's] alcohol-saturated, woman-chasing personal life and political career."
— Dan Walters